Happy Thanksgiving 2020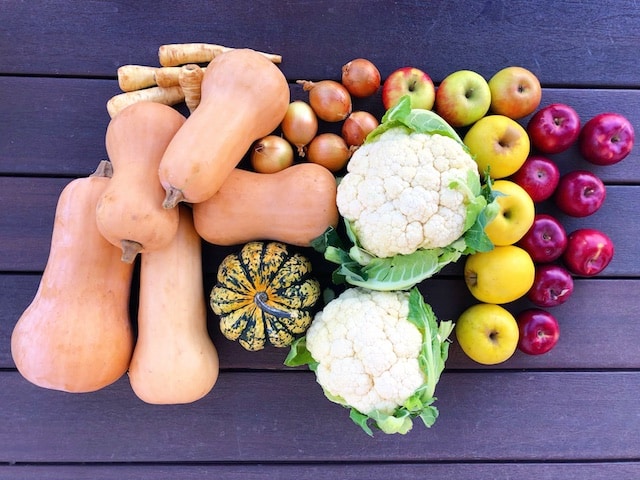 Happy Thanksgiving!
Above you can see my farmer's market haul for our Thanksgiving meal, to be paired with a big container of chanterelle mushrooms from Costco, and some nice swordfish steaks from Trader Joe's. It has been 40 years since I became a vegetarian/pescatarian– so no turkey for me– and I haven't missed it a bit.
Yesterday I posted a long list of things I'm grateful for. But I want to reiterate and expand on one of those points here: thank you so very much for being readers of this blog!
You blog readers are a vibrant, fabulous, fascinating, congenial, thoughtful, diverse lot, and please know that each one of you is deeply appreciated by me. You all have different facets of this blog that you like best, which frees me to include them all. Thank you for that!
Before I started this blog, many people told me it would have to be about only one thing. However, I gambled that I wasn't the only multi-dimensional person out there. Was I the only one who thrived on variety, who wanted all of life's marvelously myriad aspects? I thought not, and I love each of you for proving me right.
Thank you for subscribing. Thank you for opening your email to see what good I found worth amplifying that day. Thank you for responding in the comments. Thank you for supporting the blog, financially, prayerfully, and with your presence. Thank you for sharing posts, and the blog in general, with your families, friends, co-workers, or through social media–and especially with your own hearts and minds. Yes, thank you for your open (and dear!) hearts and minds. They are so very precious in this world.
You make me feel not so alone. This has been true all along, but I've really noticed it in this year of increased isolation. Thank you for that. I hope I make you feel less alone too. I'm grateful this blog brings us together.
You give me an outlet for my rich overflow. (My cup does run over!) You make me cognizant of all the daily good around me. This blog is a spiritual practice and a creative outlet, but when I started it twelve years ago I suspected that at a pace of everyday, I'd surely run out of stuff to share. But no, everyday, without fail, I'm picking among multiple things that seem to me to be begging to be posted.
This blog has shown me that good never runs out, truth can't be reversed, that creativity is unquenchable, that virtue abounds, that inspiration is law, and the beauty of nature is ever-present. Without you blog readers, I would never have realized all that incredible, life-enhancing stuff! And knowing that so deeply brings me such massive joy, I can't even begin to thank you enough for it.
But I want to try. Thank you for staying with me as the seasons revolve around. Thank you not being bored, or too busy, or feeling like you've seen it all before. Thank you to those of you that only read whatever interests you, letting the rest go, and thank you as well, to those of you who take in this blog every single day. Thank you for your fresh curiosity, your growth mentality, your exploratory attitude, your consistent mindfulness, your tenacious inquisitiveness, your love of wisdom, vividness, flavor, illumination, and color.
Thank you for being you. You are here because you hear my heart, but I want you to emphatically know: this blog is here because I hear yours. I cherish each one of you. I feel we are in solidarity, bringing about a more healthy, more joyful, increasingly aware, soulfully satisfied, wonderful world.
This Thanksgiving, I thank God for you.
Thank you.