Photos of Dawn Emerson's Workshop (Monotype with Pastel)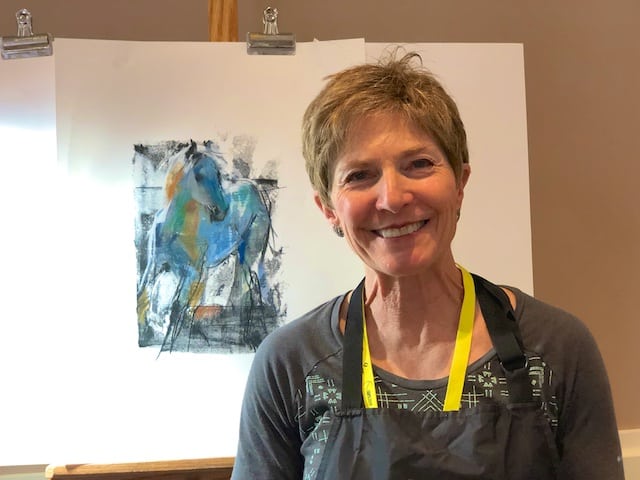 I took a wonderful two day workshop with Dawn Emerson on monotype with pastel at the IAPS International Pastel Convention. Dawn a has terrific, scientific, "try it and see" approach to her creativity. Her vitality, inventiveness, and lyrical methods result in fresh paintings that are alive with spontaneity. It was truly a privilege being in the same room with her. Her teaching is non prescriptive, throwing tons of options and ideas at her students, for them to utilize (or not) as individually needed. I loved it.
There was a whole lot of talent, experience, and ability in the room among the students. We were all focused and intent on making the most of the time. I include a lot of their work too in the photos below.
The first day we did monotypes from reference photos. You can see the two landscapes I did first in that set. Each plate we ran through the press twice, the first yielding a better print, the second one called a "ghost." (On the five plates I did I show both versions, those of other students you are seeing only the first pull.) Then we added what is called "pan pastel" to the prints which is transparent enough to show though to the monotype when desired. You can see a few examples of that below as well.
For me, it is the second day when things really took off. Particaly that was true for me as we were freed from using a photo reference. Many more options came into play, and for me it felt like my monoprint collage work skipped a whole gluing step. This day texture became king even to a larger degree, which is my happy place. You can see my other three abstract prints, their plates and their ghosts below, followed by day two work by others.
The whole experience for me felt like a consolidation of different art processes I enjoy all into a single place. I will continue to explore them separately, but will definitely experiment with them fused together going forward. Now I'm not only looking for a press I can use, but am also looking at buying materials I don't have. In the meantime, I'm percolating with ideas as to how to proceed without anything new, and for that I am thankful.
Dawn also has a book that I bought this morning from Amazon called Pastel Innovations. You might want to check it out! Also Dawn's website is here, and her Facebook is here. And a shout out too to the print tech Rosemary, who was essential to making this workshop the positive experience it was.