Adventures in Abstraction Two Day Workshop I Taught for CPS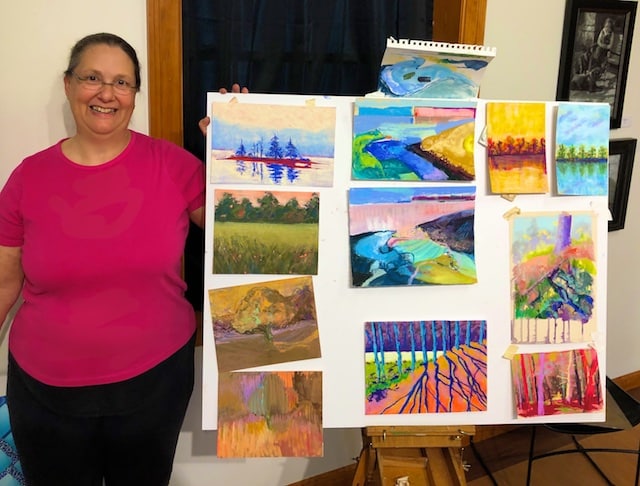 I had a great time last weekend teaching my Adventures in Abstraction workshop for two full days to pastel artists. This event was sponsored by the Connecticut Pastel Society. There were ten students who worked hard doing seven exercises on Saturday, and 2 to 5 more on Sunday.
Interspersed, there were five slide shows that I put together to flood them with abstract images and ideas. We started the day on Saturday with some basics of abstraction. We worked first with non-objective art and then moved on to abstract expressionism, abstract conceptualism, abstracted things, and the abstracted landscape. We discussed their work together after each exercise, as well as individually, at their easels. They did great work, busting past their comfort zones.
The feed back was very positive, one giving me an A+, and it humbles me that another said, "This will stay with me forever. I have a new understanding." (Wow, my motives had their reward!) My teaching style was referred to as "generous," "enthusiastic," "awesome," and "encouraging." One student remarked that she was glad to have "found something new within herself," and another commented that it has "motivated her to continue on the abstract path." Everyone agreed that the workshop far exceeded their expectations, and several remarked that they want me back with a another class.  I've got plenty of material for several follow ups so am totally open to that.
Anyway check out our two days together below (and sorry a couple of them are out of focus).
I really enjoyed nurturing and cheering on these talented ladies to become more intrepid as they sally forth in the land of abstraction. It's a great place to be and they are certainly up to the challenge! It was wonderful to have the opportunity to be with them.