Photos Inside Hearst Castle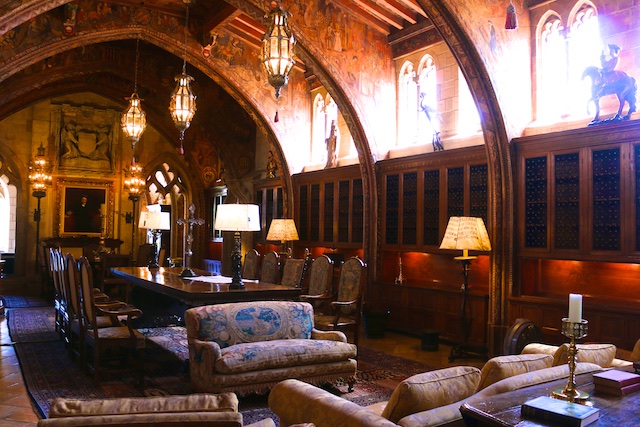 Yesterday I showed you photos of the outside of Hearst Castle. Today, through the photos below, you can see what the inside looks like. 
Now a California State Park, Hearst Castle offers three different tours, and we made a day of it and went on all three. The house and rooms are chock full of priceless antiques and architectural salvage from Europe, via auction houses in New York City. The ceilings are outrageously ornate. Tapestries are from the Middle Ages. Meanwhile, William Randolph Hearst calls this "the Ranch" so ketchup is on the table.
The architect, Julia Morgan, was an amazing character that I'd love to read more about. She was the first female architect in California, and went to Paris for training, where she was the first woman allowed into the architecture school. She had an outstanding career, and worked on this project for decades, often changing things as Hearst frequently changed his mind. Others had thought this spot was too hard to build on – water had to come from too far, and the road was thought too difficult to construct– but she just graciously did it anyway. She hand picked for Hearst all the artifacts you see here, to his specifications.
Hearst entertained the wealthy, the famous, and the powerful here– everyone from Churchill to Charlie Chaplain. Each guest would have the run of the place with all its amenities, pools, tennis courts, horseback riding, or a car to go down to the beach, etc, during the day, but then they were expected to show up for dinner, conversation, and a movie with Hearst in the evenings. Hearst ran his empire from the room above during the day, and delighted in the company of his guests in the evening, with his actress companion Marion Davies. This was not his only house, but it was the one he liked best.
Built out of concrete, the house has withstood an earthquake. But when it was threatened with fire, Hearst instructed that the trees in the gardens be saved before the house with all its rare artifacts. I find it interesting that his affections remained with the trees…
Can't you see a miniseries like Downton Abbey taking place here?