Science Picture Books for Early Elementary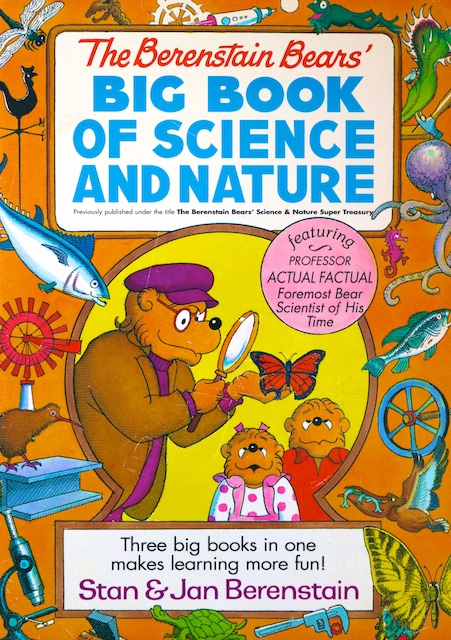 A couple days ago I was asked by a homeschooling mother my recommendation for "science" for first grade. Those who know me well will not be surprised that instead of curriculum, my response was lots of high content, beautifully illustrated picture books. There will be plenty of time for textbooks later, and you need to seize the day to do these great picture books while you can.
It is important to read kids a lot of diverse and wonderful books at this age to peak their interest, and give them a broad foundation. Your role at this age in any subject is to foster their enjoyment of the subject, for they will see all this again, and you are just providing "hooks" for them to hang that later information on. When they revisit a subject, your goal is for their response to be, "Oh, I like that. That was interesting." And the more hooks they get the better.
Photographed in this post are some of our favorites that we happen to own. There are many more boxed up in the basement, and at some point I may share some of those with you as well. In addition to these, I encourage you to read the following:
Let's Read and Find Out series
All About book series by Jim Arnosky
Cat in the Hat Learning Library
Thornton Burgess storybooks about animals and birds (fun and very accurate read-alouds but not illustrated)
For a little older child: Holling Clancy Holling books
Whether you are a homeschooler or not, these are wonderful books and all are great gift ideas in my opinion. This list would be marvelous fun, too, for the grandparents out there!
There are so many terrific picture books on science related topics, I encourage you to raid your library or library sale, and to enjoy some special time reading them with that child you love. I would that every kid had a strong foundation such as this for our fastly changing world.