Recipe: Polly's Tuna Melts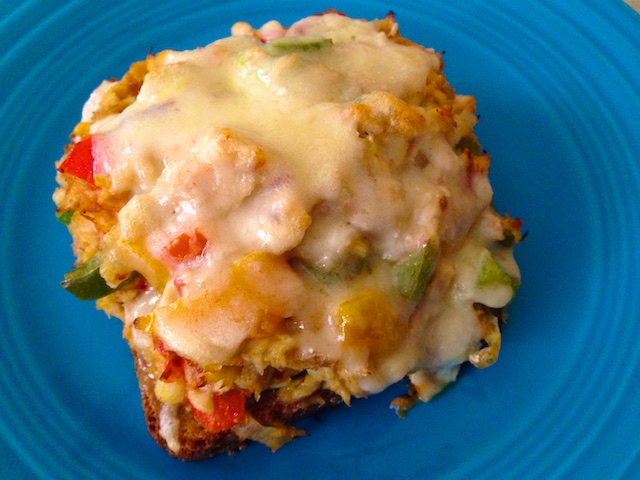 Over the holidays, my kids were surprised to hear that my tuna melts had not yet been on the blog. They are always a requested item around here, and are an exceptional signature dish of my own devising. 
I know the reason they have not found a definitive home here on the blog. It is because this recipe, while well loved, is a bit of a moving target. I put in them whatever I have on hand or need to use up in the refrigerator. But the basic idea, which I developed quite a while back, remains the same, so I'll try to guide your hand in this process. When I struck on this combination of flavors by creative fluke, it tasted brilliant, and I've been making this in some variation ever since.
There are several keys to making this wonderful. Beyond tuna and some miscellaneous vegetables, the key ingredients to this are the honey mustard and Trader Joe's Wasabi Mayo shown in the first photo below, coupled with a sharp cheddar and slow roasted tomatoes. (These open faced sandwiches are one of the reasons we roast so many tomatoes and freeze them!) You'll need to make some slow roasted tomatoes as a baseline for this recipe, so you'll need to plan in advance to get that done, but they are a revelation, and you will be so glad that you made them! Also, another important factor in making this a success is that all the parts need to be warm when assembling, since melted cheese over cool tuna does not cut it.
We bought a tempered glass baking sheet to make nachos on in the oven when we got rid of our microwave. That is what I use to put these into the oven, but a pyrex pan or cookie sheet will work as well.
So what miscellaneous vegetables? My favorite is with leftover roasted asparagus and spinach, but my kids prefer onions and bell pepper, which is what is shown in these photos, because I made it for them. Sometimes I use leeks, leftover roasted brussels sprouts or roasted butternut squash, and carrots, etc. The proportions of veggies vary too. If you use spinach, for example, you'll want more of it since it almost disappears when cooked. Sometimes I use a whole batch of roasted tomatoes, sometimes only half. I encourage you to experiment here and see what you like; try it in various ways. For bread, I like it best on German Dark Wheat, but lately we've been putting it on Ezekiel because that is what we have on hand.
Scaling this up or down is easy. I use a can of tuna for two people, one open faced sandwich each. So if you have more or less people just multiply as necessary or divide what I have below. If you make more of the tuna/veggie mixture than fits on your toast, store it as leftovers and someone will be thrilled to eat it later warmed up.
Preheat oven to 400ºF.
2 cans of albacore tuna packed in water
teaspoon of olive oil (if needed)
2 garlic cloves, crushed
1 cup or more of roasted tomatoes, chopped (recipe here)
1 cup or more of veggies, chopped
4 hearty dollops of wasabi mayo
4 slices of bread, toasted
honey mustard
four thick slices of sharp (or extra sharp) cheddar cheese (or about a cup grated)
If you are using onions, carrots, or bell peppers, sauté them first in a bit of olive oil until soft. Then sauté the tuna together with the garlic, roasted tomatoes, other veggies, and wasabi mayo, until soft and hot.
Toast the bread and then slather it with a good amount of honey mustard.
Assemble the open faced sandwiches, placing the warm tuna/veggie mixture on top of the honey mustard, and the cheese on top of that, as shown below. Put it in the oven until the cheese is good and melted.
Then enjoy this amazing taste sensation!