Opening and Talk by Local American Impressionists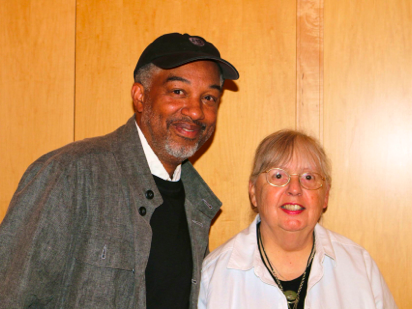 Tonight I went to an opening by Dmitri Wright and Bobbi Mullen (shown above). I had never met Dmitri, nor had seen his work before, so doing so was a special treat, as I hold a fervent fascination for abstract landscapes. Both artists call themselves contemporary American Impressionists.
In a talk given by Dmitri before the opening, he encouraged us to consider what light is. He talked about 9 elements of light:
• highlight
• direct light
• shadow
• reflected light
• cast shadow
• transparent light
• translucent light
• transcendent light
He said all types of light are depicted through color juxtaposed with their opposites. Our eye then does the optical mixing through which we translate the simultaneous contrasts as light.
There are illustrative strokes which convey the shape of something and expressive strokes which are unique to each painter, painting with their own "image poetry" based on their sensations. Also, he elaborated that everyone brings their own "illuminated memory" to their works of art.
He described the underpainting process to be like the overture done by the pit orchestra before an opera, ballet or play: it sets the tone. He often uses light yellow or peachy under-paintings, and leaves more of them bare than I would, lending more of a raw, unfinished aspect to the work.
He says that because of photography, we are now free to discover other ideas. He sees impressionism as an interplay between scientific and poetic ideas, which are opposites that must "dance a tango." He feels that it is no surprise that impressionism and jazz came at around the same time. In impressionism there should be both a vibe and an ambiance, as well as the need for a rhythmic energy, such as the way the wind goes across the grass.
He remarked, "Do I paint the light or does the light paint me; I think the latter and now I'm free."
Enjoy the vibrant color sense of this man taught by Wolfe Kahn. (I especially like the first two below.) Check out his art in this current show at the Wilton Library, and see it below as well, where I include some close up shots so you can appreciate how loose and textured his work is. Also check out his website here.
The last four paintings below are by Bobbi Mullen, who shares this show with Dmitri, and whom I believe has been on this blog before.