Photos of Ridgefield's New Library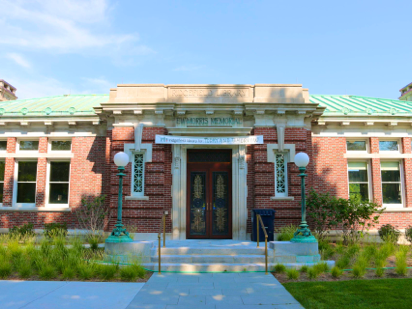 It was a pleasure to finally get to see the new Ridgefield library that opened in May. I knew many people that worked hard on seeing this project through to fruition. It was satisfying to see such nice light filled spaces, touching to see a study room given in honor of a dear friend, and fun to find our "book" on the wall of donors. All the bookcases are on wheels and there are new electronic check outs…
To be honest, we wanted to love it more than we did. My kids had spent a lot of time in the old library and it was dear to them. We now missed the familiar red bookcases in the children's area, missed the crowded book-centered feel of the old place, and were sad future that generations wouldn't befriend the check-out ladies as all my kids did due to the new impersonal convenience of technology. Don't misunderstand me; as you can see in the photos it is absolutely beautiful. But where is it's heart and soul?
We were also disappointed to see that they auctioned off the huge original copies they had of Audubon's Birds of America. We loved looking at those. And where is the copy of the Christian Science Monitor that our church gives a subscription for? And why did they choose chairs that are not comfortable?
I'm glad they kept the front two rooms of the original library though, and I suppose we'll eventually adjust to the changes.