Home from a Week Long College Tour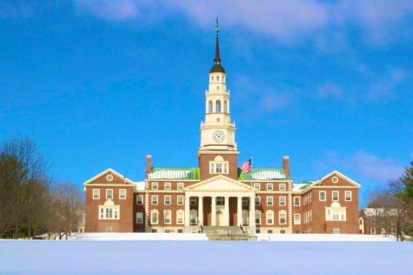 Together with our youngest, I drove 35 hours this past week through seven states to see six colleges. We had a great time, and it was all very clarifying and illuminating. She wants a cold-climate, small, private college strong in Physics and/or engineering, or with a 3/2 program, that also has enough flexibility for her to include some art and music classes.
We saw Dartmouth, Colby, Bowdoin, Alfred, Cornel, and Juniata. After seeing Colby and Cornel she has removed them from her list. Bowdoin and Juniata climbed higher in her opinion and she'll probably apply. Dartmouth is a possible end point for the 3-2 Engineering programs she's looking at, and Alfred is a decent "safety school."
Rose Hulman and Grinnell we plan to visit in June. The College of the Atlantic, WPI, and Marlboro which we've visited previously, are still on her list of places where she plans to apply. She may still apply to Olin and Brown, but given their unlikely admissions rates, she might not as well. Smith, which we visited last fall, remains at the top of her list. She plans to visit Smith again in the fall to decide whether or not to apply there early decision.
We had a great time on our trip. As side bonuses we enjoyed a visit to Simon Pierce in Vermont, a day at the Corning Glass Museum, some great restaurants, and a lovely Easter with our oldest daughter in Syracuse.