A Visit to Juniata College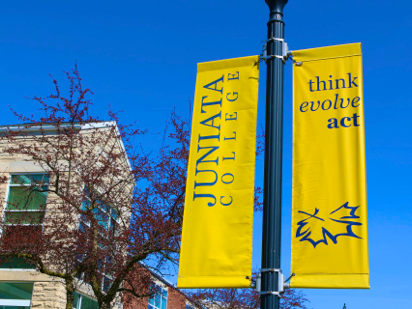 Today we visited Juniata College in south central Pennsylvania and liked it. We originally put this school on our list after reading about it in the book Colleges That Change Lives, where it was highlighted as a small up-and-coming liberal arts school with an especially strong science program.
The Physics program is small but communal and collaborative, with a 3-2 option for engineering school elsewhere. An alumnus from this program has won the Nobel Prize in Physics and his medal is on display in the hall of the Physics department as shown below. The students in this department have their own lounge where they hang out; we visited them there and they were enthusiastic about both Juniata and their studies. However, they were all guys; there are very few females in this program.
It was nice that every family group visiting got their own tour guide. I think this is a smart move since we have generally liked one-on-one tours better and it helps give a favorable impression. Also, our daughter had her first on-campus interview here. It went well – they were in there forever. During our daughter's interview, the other interviewer interviewed four people. To my surprise, our daughter enjoyed the interview, and so it seemed, did the interviewer.
Juniata is not ranked as high as some of the other schools we are looking at, but they have a reputation of doing a lot with what they have. Our daughter could fit in easily here and I think she found that attractive and encouraging. This school does give merit scholarships which I believe our daughter could receive, but their financial aid is not as strong as some other schools she is expecting to apply to. Additionally, unlike most of the schools we are looking at, this is not a need-blind school.
The food was decent, and our daughter could actually eat here which is a plus that is not available at every other place we are considering. We went through a sauté bar and chose what to have in our stir-fry (see photos below); Laura frequented the smoothie bar as well.
More than anything else, you get the sense that students here are learning and growing but are not stressed. They are happy and relaxed while still engaged in what they are doing. These students are getting nurtured and supported. Their courses are challenging but not competitive. This cohesive, student-focused, value-added school has jumped up onto the shortlist of where our youngest will apply.