A Visit to Marlboro College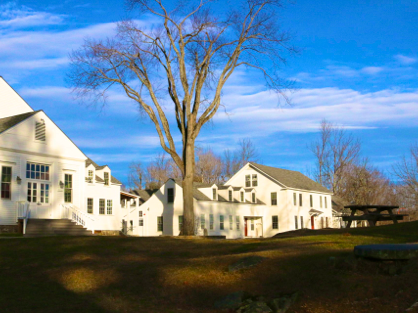 We visited Marlboro College last November, on the same day we visited Smith College. The day after, we visited Olin and Wellesley. Smith and Olin she liked right off. Wellesley she did not care for at all, and immediately ruled it off her list. Marlboro, however, was a lot to take in because it is so different, but it has been growing on her since she visited. Now, it seems there is not a day that Marlboro doesn't come up, and she's definitely decided she'll be applying there as well.
There were a lot of reasons we decided to include Marlboro in our initial college tour. Laura wants a strong science or engineering program at a small college in the north; this qualifies. It is a tiny school in rural Vermont with the #1 ranked professors in the country. The student/teacher ratio is 7:1. They stress independent learning which is very attractive to our daughter. The academic ranking in Princeton Review is 99, right up there with Olin & Swarthmore, and considerably higher than the ivies.
It is the first pick of Loren Pope, the author of the book Colleges that Change Lives, where he says, "You will find the Marlboro adventure far more intense and intellectually demanding than Harvard, any other ivy, or ivy clone. There is simply no comparison. …People who come here should be interested in ideas, the life of the mind. That's central here. And they must be self-reliant." 
Students here have basically two requirements. There is a writing requirement of 20 excellent pages your freshmen year, and if you don't do well enough on that, you are not asked back. Then, after taking a broad spectrum of things your freshmen and sophomore years, you work on a concentration with an advisor, which is a bit like a mini dissertation, at times ending up around 100 pages. The culmination of your time at Marlboro is an oral for which they bring in an expert in the field you just wrote on to discuss the topic.
When you visit, the intense academics you read about don't reconcile easily with this clapboard campus set into a bucolic hill in the middle of nowhere. While the books call the environment here "rustic," I'd say it reads more seedy or casual. This was a bit off-putting after the bustle and well-funded polish of Smith, so maybe we were responding more to the stark contrast. This campus was very quiet. The low buildings in the photos are the dorms– one of which is designated as "substance free." The whole college fits in the one dining room, and is governed town hall style.
And is the smallness a detriment to someone who wants to study the sciences; do they need flashier facilities? Wellesley had a state-off-the-art glamourous science facility and we were entirely turned off by it. We met a Marlboro math teacher in the science building, a hippy by appearance, but vibrant and fascinating to talk to. We came away wanting to take any class he taught, and more than anything else as the months pass, that interaction lingers with us. The drawbacks of the smallness of the department could easily be made up for with high quality one-on-one attention with remarkable people.
Our daughter is not particularly a strong writer, but a very solid thinker. Many science/engineering programs we've looked at tell kids in these fields not to worry about writing. Apparently it is quite common that types interested in these topics do not consider themselves writers. Initially, I thought that the writing emphasis at Marlboro might be the element that eliminated it from her list, but as she's thought about it, she has come to see that it might be a huge gift to learn to be able to express her ideas well.
 Additionally, they do have lovely grand piano practice rooms, which is important to our daughter, and she could easily supplement her academics with some art, music, dance, and ceramics classes that would keep her grounded and balanced. Their 17 miles of trails on 450 acres in the Green Mountains would be a great place to be outdoors, including skiing in their 94 inches of average snowfall each year.
In the photos, you can see the science building first below, followed by other pictures taken during our tour, including a typical classroom. And in town in Brattleboro we stumbled on a Christian Science Reading Room; apparently there is an active church that brings students in for Sunday School. In the last photo, you can see the room at the old inn we stayed at in Marlboro, where it turns out the proprietor's brother is an Economics professor at Swarthmore where our son is…
We'll be looking at several more colleges this spring, so it is way too soon to see how this all shakes out. But the process sure is interesting. It is sobering to realize that this time next year all the applications will be in and then we'll be playing a waiting game.