Used Curriculum Sale 2013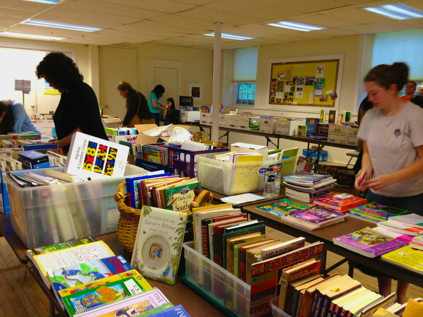 I was in charge of our homeschooling group's Used Curriculum Sale again. We held it two years ago and again yesterday.  We did not have the crowds we hoped for, but most vendors reported selling a third to a half of what they brought.  I did particularly well because I had fourteen Great Courses for sale which are pricey; over the three hour sale I made $244, and swapped an AP Econ textbook for a Geometry one.  I only spent $15 for my family, and was pleased to score a Language Arts curriculum for my sister's high school daughter for $10.  Everyone agreed we need to do this every year, but fortunately I think I'm done being in charge of it!
Please note that I've recently upgraded to an iPhone 5 so check out my first effort at the panorama on that!