Our Daughter Finished Her Senior Essay!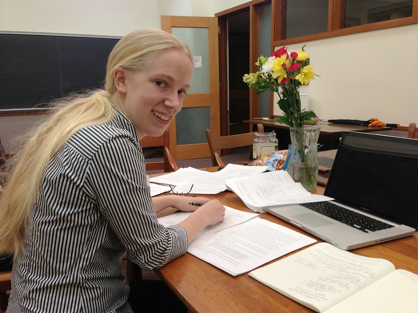 Our daughter is rightfully euphoric to have completed her senior essay and turned it in last night. This 42 page paper on Tocqueville's Democracy in America (with 61 footnotes) has been a labor of love for months culminating in nonstop focused intensity for the month of January, with yesterday mounting to a laser-like concentration approximating what the experts call "flow."
The title of her paper was: "The Self-Focused Yet Free Citizen: a search for active citizenship in Tocqueville's Democracy in America." She was examining how "the interaction of free institutions and individual self-interest fosters active citizenship."
Below you can see photos of the process, as well as a triumphant picture of our daughter handing her completed paper in to the Dean.
All seniors at St John's College had senior essays due by midnight last night or they would not graduate. The papers are collected by the Dean at a cocktail party at the college President's house. After all the papers are turned in there is copious hugging and then the seniors process to the bell tower. At 12:30am each senior who turned in an essay gets to ring the bell; they used to get to ring one bell for every page, but "in a compromise with the community" it was reduced to one bell per student. So, the good folks of Annapolis only heard about 120 bells instead of more than 2000 bells. .. at 12:30 in the morning!
Having this senior essay completed is a huge rite of passage and a total relief.
Our daughter is not going to let the grass grow under her feet, however. Tomorrow she starts a brand new internship for the Governor of Maryland's policy director. She is excited to get to work on some real groundbreaking educational policy after steeping herself in so much theory, and this position is a big step up for her after her great experience working for the Governor last summer. On top of that she's back to her last term of undergraduate classes, and juggling multiple other campus jobs. Soon she'll be deciding where she'll be next year, graduating, and then saying good-bye to St. John's!
We are so glad she's pleased with her work and connecting with her interests.
Thank you God!