New Pond Farm Photography Show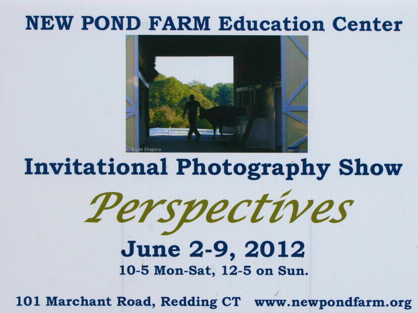 Our family has been members of New Pond Farm since our oldest was in pre-school seventeen years ago.  For less than $100/year we have access to over a hundred acres for prime land seven minutes from our home. This educational farm also has wonderful programming.
We have made maple syrup, sheared, carded, spun, and knit wool, harvested honey, done pond study, experienced life as a Native American, hunted (and later hid) Easter eggs, made scarecrows, shoveled manure, fed reptiles, taken cows to pasture, collected warm eggs, seen distant planets from a high powered telescope, watched meteor showers, made friends, TAKEN GOBS OF PHOTOS, and much, much more.   Additionally, our youngest is on the staff there, growing vegetables for our/their CSA.
Please come out for this Invitational Photography Show which is a fundraiser for this place we love. Hurry, because it is over this weekend!  Below are some photos of work in the show to get you motivated to come over.  The bottom two photographs are the ones I have in the show.