Photos of Swarthmore Visit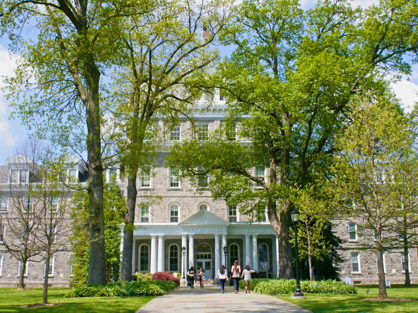 I took Andrew to Swarthmore "admitted student days" today and he is staying through tomorrow.  There is no question that the people here are nice and that the campus is the most beautiful I've seen.  In many ways this place is idyllic.
However we were sobered by our first visit to the engineering school which is smaller than we expected and lacking a good facility and current machinery. They were planning a new building when the recent recession dented their endowment fund, and now they are just starting that process again.  Thankfully, the current building is due to be renovated before classes start in the fall.  The professors here focus on teaching and not research, so the overall impression is that there is a lot of individualized attention and solid fundamentals (that corporations and grad schools rave about as missing from other institutions), but the cutting edge seems sadly missing.  There is no wall of recent patents here like we saw last Monday at Dartmouth.
I talked at length to the director of the engineering department, and she felt the smallness of the program and the world class professors who focused on teaching were why the department is so successful.  It is a close-knit community with lots of flexibility for project based learning; every class has a lab or project which is what my son has said he wanted. He also can combine an engineering major with something else (like in his case, economics) and this integration of disparate fields is not available in most programs. Even though the place looks underfunded, they are producing some of the highest achieving students in the country, 3/4ths of which proceed on to the best engineering PhD programs, and the other quarter are snapped up by the likes of Google, iRobot and Microsoft.  Even Olin can't say any better.
Anyway, up until now, Swarthmore was a place we had no reservations about, but now we have red flags on each one of his possibilities. Maybe it is good to not have any school too high on a pedestal, but it feels like a loss that we were not thrilled out of our mind.  He still may end up going here, but his eyes are more open now if he chooses it.  Many of his classes would be in the new science center anyway, along with math, economics and political science courses in the main campus buildings.  There are reciprocal classes with University of Pennsylvania a shuttle ride away if he needed something only a larger university could provide.
You can see from the photos below what a gorgeous setting it is.  In my photos you'll find a student giving a presentation to a small class in front of a blackboard in an outdoor "classroom."  Professors have dogs lounging in their offices.  The dining hall looked fine, with many more options than most.  The grounds are a registered arboretum, and are just stunning in full bloom. There are no cars on the campus interior.  The natural amphitheater shown is where graduation is held rain or shine.  In the engineering school the students have rigged up the stair treads to play notes like a piano as you go up and down them…
We know of students with perfect scores on every college entrance exam who did not get in here, and we know a student who was admitted to Swarthmore, MIT, Yale, Brown, Columbia and Duke who is enthusiastically choosing Swarthmore as her hands down first choice.  There is no question that the student body here has a lot to offer.
Princeton Review says the the professor "interesting rating" here is is 97 compared to Dartmouth's 76. Maybe we'll start reconsidering Reed whose "interesting rating" is 99?  But political activism is "popular" at Swarthmore where at Reed, "There is virtually no political dialogue," because those students already agree.
There are so many aspects to consider; I'm grateful it is not my decision to make!  Swarthmore's reputation is untarnished in a world that is very ready to place the type of negative stereotypes that both Reed and Dartmouth are beleaguered with.  But does Swarthmore live up to their shining, stellar reputation?
A friend of the family's whose daughter went here wrote me saying, "My daughter's experiences as a Swarthmore student were fabulous!  It's an amazing school that provides what I think is probably the best undergraduate academic experience in the country.  The students are brilliant, intense and serious about their work, but collaborative and engaged with each other in that work.  The faculty are world-class scholars who are committed to undergraduate education."
Meanwhile, Andrew was awarded a free t-shirt in front of next year's prospective freshman class for coming from the smallest graduating class… no other homeschoolers were in attendance.