Four Days without Electricity… Again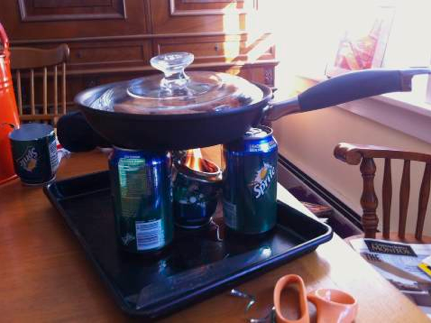 This is the second time in two months we've gone four days without electricity. This time it was cold and we could see our breath inside the house. I slept head to toe encapsulated in polar fleece. One day I sat out on the picnic table to talk on my cell phone because it was warmer in the snow in the sun than inside the house.
We clustered closely around our fire place, eating Cheerios, melting ice cream, and peanut butter and jelly sandwiches. The mailman chuckled coming up our walk because contents of our refrigerator were packed into the snow banks, cheese here, juice there, etc.  My son, prizing some hot food and unwilling to be deterred, rigged up a "hobo stove" (above) out of corn oil and Sprite cans. I couldn't resist sharing it!  We've borrowed camp stoves in the past when we've gone camping, maybe we are in the market for one? His improvised version works but makes a sooty mess.
Below my daughter works on her AP Drawing assignment by candlelight, while I keep her company painting watercolor doodles in art journals.  The biggest problem for us with the power outages is our kids rely on online classes.  The school systems here called off school for a week for the second time this year and winter hasn't even hit yet.  But when my kids miss their classes, the rest of the class keeps moving ahead without them.  However, it was nice to see so much of my son, who is usually glued to the internet. We really enjoyed his company.
I have to say having iPhones made this time much less trying.  We powered them up on our cars so much that our van's battery is now dead…  Anyway, we are rejoicing over having electricity again.  My son literally danced a jig of joy when it was restored.  Once again we are reminded not to take this privilege for granted!  Now for a hot shower…