Striving: Nought Unless the Lord Ordain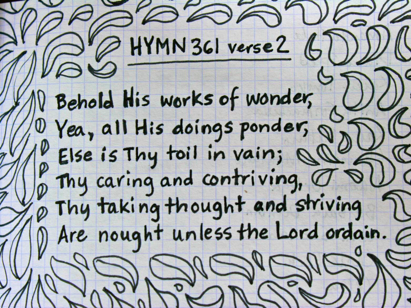 I was really struck by the above verse in Hymn 361.
My son is in the early throes of preparing for eight big college entrance tests this spring of his junior year. As a homeschooler, the scores on these tests are particularly important in validating his transcript. Recently, I bought the mountain of test prep books shown below, at the closing of our favorite Border's store. This whole testing process is a bit daunting, and the above hymn snapped it all back into perspective for me. What is God ordaining for him?
I looked up the concept of striving in the Bible and Mary Baker Eddy's writings. The Bible says:
"stand fast in one spirit, with one mind striving together for the faith of the gospel;" Phil 1:27
"…we preach, warning every man, and teaching every man in all wisdom; that we may present every man perfect in Christ Jesus: Whereunto I also labour, striving according to his working, which worketh in me mightily." Col 1:27-29
Mary Baker Eddy says:
"They must not only seek, but strive, to enter the narrow path of Life, for 'wide is the gate, and broad is the way, that leadeth to destruction, and many there be which go in thereat.'"
"Simply asking that we may love God will never make us love Him; but the longing to be better and holier, expressed in daily watchfulness and in striving to assimilate more of the divine character, will mould and fashion us anew, until we awake in His likeness. We reach the Science of Christianity through demonstration of the divine nature;"
"Seeking is not sufficient. It is striving that enables us to enter. Spiritual attainments open the door to a higher understanding of the divine Life."
"In public prayer we often go beyond our convictions, beyond the honest standpoint of fervent desire. If we are not secretly yearning and openly striving for the accomplishment of all we ask, our prayers are 'vain repetitions,' such as the heathen use. If our petitions are sincere, we labor for what we ask; and our Father, who seeth in secret, will reward us openly."
"If the disciple is advancing spiritually, he is striving to enter in. He constantly turns away from material sense, and looks towards the imperishable things of Spirit. If honest, he will be in earnest from the start, and gain a little each day in the right direction, till at last he finishes his course with joy."
"It is easier to desire Truth than to rid one's self of error. Mortals may seek the understanding of Christian Science, but they will not be able to glean from Christian Science the facts of being without striving for them. This strife consists in the endeavor to forsake error of every kind and to possess no other consciousness but good."
"Striving to be good, to do good, and to love our neighbor as ourself, man's soul is safe;"
It's all about striving to be honest, good, Christlike, holy, faithful. It is important to remember that worldly striving is nought unless the Lord ordain. And if He does ordain it? You had better do it!
Another hymn comes to mind:
Hymn 430 verse 2
Earthly treasures, pride and glory,
Human power and worldly trust,
Though with care and toil are builded
In the end will fall to dust.
But God's power, hour by hour,
Is my temple and my tower.
What is ordained for you and yours? Are you striving for it? Are you striving for God?