Sunrise of Africa School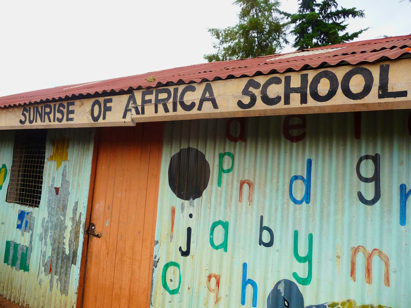 This is Sunrise of Africa School where my daughter Virginia volunteered. (Click here for their website.) It is a Christian Science school outside of Nairobi, in Kenya. There are two different locations with two different uniforms, as you can see in the photographs my daughter took below.
This school is growing fast and takes in kids on scholarship (such as the Masai family shown on yesterday's blog: click here to see). You can email the school off the website if you'd like to consider sponsoring a needy child's tuition, I believe it is $30/month. (Or click here to see how to donate.) The school has what they call "Monday School" in place of Sunday School where they teach the ten commandments and the beatitudes, as well as do hymn singing. At assembly every morning the Lord's prayer is said together. Their motto of "strive & trust" is coupled with the hope that they are teaching Kenya's next generation of leaders.
The kids are great as you can see here. Very endearing! My daughter loved teaching them. She led hymn sings, and taught English, Science and Math. These children are brought up with a tribal language and learn both Swahili and English when they come to school. In addition to learning, they get lunch.
Virginia is very grateful for all the loving support she had from Christian Scientists here, that made it possible for her to go and contribute personally to these wonderful children of God.
Enjoy these many terrific photos…