Freshman Year Over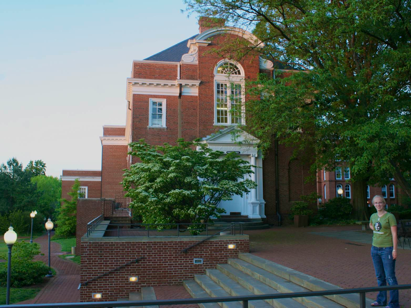 It seems such a short time ago that I dropped my oldest daughter off at college (click here to read that blog entry). It hardly seems possible that her first year is over already. She has worked hard. She learned Ancient Greek, read lots of Plato and Aristotle (etc!), proved every proposition of Euclid, played her flute in the orchestra, sung in the freshman choir, and danced… among many other things. She also had a work-study job as an assistant to the Kindergarten teacher in the West Annapolis Elementary school.
Today we moved her out of her dorm room to an off-campus house she'll be living in next year. (Like the Red Sea parting for her, she scored a great 15' x 17' room in a big, gracious house built in 1912, furnished with lovely dark antiques and 12' ceilings.) The day for the move was thankfully clear and breezy with no humidity. She had a friend from the local church help us get stuff down from her third floor dorm room and up into her second floor room of her house. See her house for next year below; her room is the second floor front left; the stairway shown is from her side entrance directly to the second floor.
This move was done before lunch, allowing us plenty of time to enjoy Annapolis. We ate our way around town. While my crab cakes are good (click here to see mine) this one was sitting delicious in lemon shallot butter. And I again had my favorite local fare of the avocado mango crab salad. Wandering around in the afternoon put us in a gelato shop, where I had a half scoop of chocolate mixed with half a scoop of raspberry. Then in the evening we stuffed ourselves on authentic fish and chips at an Irish Pub frequented by college kids.
After dinner, dropping her off back on campus, the light was stunning. I then took some of these photos of her on campus. She's now so comfortable here, so glad to be here, she's struggling with the thought of leaving. Tonight she's in charge of the graduation waltz party, and tomorrow she's helping with graduation. After that we head back to Connecticut where she'll be with us for about eight hours before she flies off to Kenya to volunteer in a church school there. Between that and a camp counselor job in Pennsylvania, she'll be home a total of four days this summer, before I return with her in August to help her unpack the boxes we moved today.
She's growing and learning and taking home with her wherever she goes. It's been great to see her and feel like a help in her world. It is amazing to watch her blossom from one season to the next!