Good Show: Georgia Okeefe Abstracts at the Whitney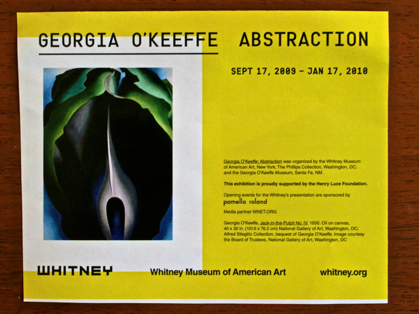 We enjoyed this show at the Whitney Museum on Madison and 75th Street in NYC. (Click here for their website) And you've got to love that lighted ceiling there, which is an art installation in itself!
What I didn't know before was that Georgia O'Keefe stepped out into fame with a first show of completely unremarkable abstract charcoal drawings, but they were apparently revolutionary since they were non-representational. And she had that obscure opportunity because she was married to an influential artist active in the art milieu of the time, whom she has since eclipsed. So even though we think of her work with flowers, cityscapes or desert scenes, this is not how her name was made, and they came later. (I like very much some of the later works which are show below.) Artists like me and so many other talented peers of mine in the peripheral art scene, can never be the first to break away from representationalism; how can we hope to stand apart and have one woman shows dedicated to our posthumous work?
This show with art described as "sinuous rhythms of nature," with "swelling forms and sumptuous color," goes through January 17, 2010, so try to catch it if you can.