Great Show: Kandinsky at the Guggenheim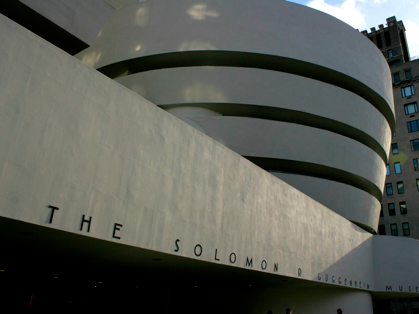 My daughter and I enjoyed a great show today of Kandinsky's work at the Guggenheim Museum. The museum is awesome in itself, designed by Frank Lloyd Wright in a gradually sloping spiral with a skylight at the top. One can not only see the artwork up close but from all the way across the museum as well, and it is surprising how different works look that far away.
Our favorites are the first shown below, collectively and then individually. They were commissioned by Edwin Campbell (who was a co-founder of Chrysler Automotive) for the foyer of his Park Avenue Apartment, simply by requesting "bright colors" of Kandinsky. These were painted in 1914.
These earlier works we liked better where he is breaking loose and exploring his visceral spirituality. His later works become too analytical, precise, ungrounded, cerebral, and to me, confined or forced, compared to the explosion of emotion and rampant expression of the earlier works shared here. I think there is a lesson in this, people resonate more to the work that comes from our gut and heart, more than when we are trying so heard with our head!
It is interesting to me that the guy who broke free from representationalism would write the existing treatise titled Concerning the Spiritual in Art, reasoning through his abstraction in this way and defending it thereby as well. I feel we have come so far from connecting abstract art with its spiritual origins that it is time for a whole new exploration of this topic. So not only do I like Kandinsky's art from this period of exploration, I am fascinated by (and driven by!) the same topics he was exploring. This strengthens my connection to his work, and the work strengthens what he said of his ideas.
The show claimed that Kandinsky had "discovered a subject matter based solely on the artist's 'inner necessity.'" I understand this "inner necessity" and have it in spades as well. That subject matter has always been there for those that have guts enough to follow where it leads. Kandinsky says in his book, "Whatever [art] arises from an artist's spiritual necessity is beautiful." I'd say, spiritual authenticity is always beautiful – in art as in anything else.
In titling his paintings, "Improvisation" (taken from the musical term) meant the artwork stemmed from this deep spiritual place. When he called something "Composition," he was working toward an intentional effort in a certain direction. Works were "Expression" when depicting his sense of an exterior thing or place that he had seen.
I came away with some practical ideas:
try gouache on black or colored paper

work something in gold, ocher and dark maroon

mix and balance complicated areas with simple ones

I liked the paintings better which had fewer sharp edges, so exactness may be overrated and possibly even detrimental to a viewer's enjoyment

try using more whites tinted with color

in watercolor try leaving a lot more white paper

experiment more with India ink

in watercolor, try covering whole paper with a light wash and then add varied but exactly applied tint washes to separate areas over that.

work bigger and with a larger range of values
I got my $18 worth! My daughter (in the last photo) and I had a great time. This show goes on until January 18, 2010; I hope you can see it too. (You can click here for their website.)
Oh, now for some time to paint big and free and gutsy!