Dried Apples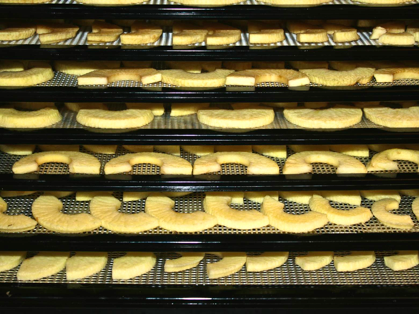 Last February, as some readers of this blog may remember, my 12 year old daughter asked for and got a food dehydrator for her birthday. Since then it has been living on our kitchen counter, and has just finished duty until next June when we can crank into drying strawberries again.
Strawberries and apples are our two favorites that we dried this year in all our experimenting. Apples have the advantage over strawberries of being less expensive over all, but also that some are left for eating later, whereas the strawberries disappear instantly.
We have an orchard close by, and we have a fabulous apple peeler gizmo (click here to buy one for yourself or a loved one – it's really fun and effective) that makes peeling apples a breeze. (It's great for pies too.) See my photos of our finished product below.
Right now, other than being delighted to have delicious, locally grown, make-your-own healthy snacks around, I'm thrilled to be getting that corner of my kitchen counter back! But I'll quickly sacrifice that once again when we put out dried strawberries once more next June, hopefully in more bulk than before.