New Poem by me: My Dad Died Today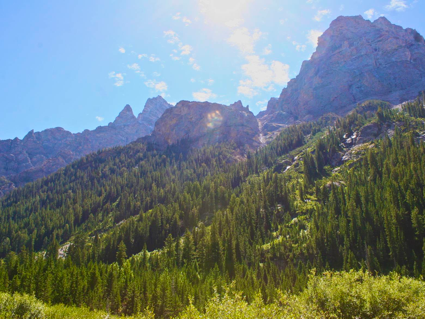 My Dad Died Today
Alzheimer's
steals so slowly
increment by devastating increment
an excruciating smidgen here
a morsel of memory there
like acid rain erosion that chisels away
a momentous mountain
instigating an avalanche
that lands in a jagged jumble
heaped heavy on the heart
with none of the dots connecting anymore
So searing is the indignity of it for one so empirically dignified.
We've mourned
his sequential losses
so long
we are practically numb to it.
It has taken many years for him to merge off the highway
so how can this feel sudden and what appoints this day of mercy?
My oldest sister was called to his bedside at 5am
She was there holding his hand, telling him we love him…
his eyes were at peace, expressing no fear,
no sorrow, no frustration, no struggle, no pain…
She was still there two and a half hours later
when he simply slipped away.
With clemency he's finally liberated
and this is new territory for me too
but not like his astonished surprise
at such an abrupt, flamboyant release
– unfettered –
into infinite goodness
(quite a revelation of recognition for his agnostic soul!)
As he is freed of one type of abyss,
I enter another, which echos hollow back at me
with a dull drone going forward, reverberating
like a horizontal line
on a monitor showing no vital signs
unflinching, unyielding, and dictatorial,
until the machine is finally shut off.
It seems so arbitrary that today was the day: totally surreal
The clock still ticks, the errands are run as usual
Shouldn't my world be more shaken than it is?
Such an amazing guy, an icon of truly brilliant greatness.
I'll honor him with a good poem someday soon.
But right now, I'm shot through with complex conflicting emotions
Bereft, accepting, grateful, sad –
Mostly, however, I regret that my children never knew him as he really was
and that he didn't have the pleasure of being cognizant of them
who continue to reflect volumes of everything he valued:
they would have been so immeasurably proud of each other.
I fervently wish they could have cherished one another!
It used to anger me to no end when he'd say,
"All men are created equal, but some are more equal than others."
Now I understand: he was more equal than most,
and he'd think they were too.
He's an awesome idea that cannot be unthought…
I remember once I told him that God was actually my Father
(no wonder he called me impertinent)
He knew how important he was to me: irreplaceable.
And now he's graduated, and I'm left behind, still studying
While both of us live on, dwelling together
in the consciousness of Love.
Polly Castor
6/11/11