Movie Review: Julie & Julia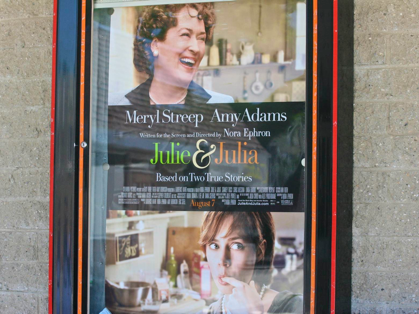 I saw this movie on opening night here, as we had been anticipating it for a while. I had read the book by Julia Powell, Julie & Julia, describing her year long blogging adventure of cooking all of the recipe's in Julia Child's Mastering the Art of French Cooking. My friend had read Julia Child's autobiography, My Life in France. This movie is made of these two parallel real life stories, and we had been looking forward to seeing how Nora Ephron fused them into a movie.
Sometimes when you've been anticipating something it is impossible for it to measure up, but in this case the result far surpassed our hopes. I haven't laughed so hard in a long time! I did not expect that it would be so funny. Our movie theater was packed to capacity and we all applauded at the end, so I must not have been the only one delighted. When was the last time you've been to a movie where everyone clapped at the end? Apparently, we were not alone in giving this movie a raving five stars.
Not all critics are saying this, suggesting with what resembles jealousy that these two women were "self-absorbed." I thought that they were unwilling to live a disinterested life, which is a very different thing. They both got caught up in learning something new instead of standing by and shriveling, and I applaud this. I also applaud their husbands for being so wonderful in supporting their wives' excessive efforts and the roller-coasters that accompanied those efforts. I liked both women and was both proud of them and their stab at making their life meaningful.
That having been said, Julia Child, played by Meryl Streep, was much more endearing, than Julia Powell, played by Amy Adams. Julia Child was looking for a way to be useful, while Julie Powell was only looking for a sense of importance and the world's acknowledgment of her. Child was feeding an appetite for tremendous fun, while Powell merely had a hunger for what she had to prove. Child was upbeat, responding to everything wonderful in her environment, while Powell was a bit whiny, reacting to what was missing from her life. So as a result of a better attitude and superior motives, you like Julia Child more and understand why she endures as one of the greats. Powell, however, met her objective with remarkable results – even finding it much easier to get published, for example, than Child did. But by comparison, Julie Powell will be a blip on the landscape due to her lower intentions, while Julia Child continuously lives on posthumously due to her genuine and expansive desire to make a real contribution and have fun doing it.
Apparently this movie was unusual in that all of it's food was actually delectable food, and not fake mock ups. For a foodie, it is a visual feast, without the pesky problem of calories. From the sizzling sole at the beginning to the phenomenal chocolate cake they ate with their fingers, it was luscious. Personally, I'd skip eating (or making!) the aspic or the boned-duck, but they helped the story, showing how intrepid these cooks were.
Much was made in the weeks approaching this film's release about how they would make Meryl Streep as tall as Julia Child – 6'2"– but it was accomplished with finesse. You did not feel like you were looking at an actress but at Julia Child herself: a bit of an endearing albatross. Steep impersonated Julia Child flawlessly, with much heart and comic bravado, and it is a performance not to be missed.