Roasting Garlic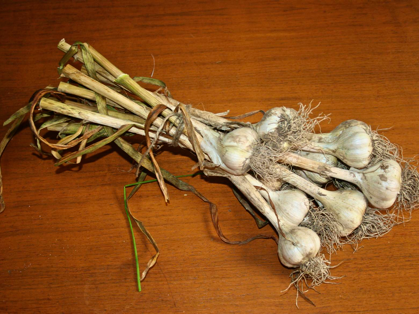 We've recently gotten a lot of fresh garlic from our shared harvest program. In the past, one of the things I've done with garlic is make a great roasted garlic vinaigrette where you roast the garlic in the skins and they just pop out afterwards. But I was not inclined to do that with these as these skins were dirtier and anyway they were fresh and fabulously easy to peel.
So I roasted them with a few locally grown baby onions, adding a little olive oil, and salt and pepper, as you can see in the photos below. They were delicious as the side dish shown, but we were socially unacceptable afterwards, so I don't recommend that! Resist the overwhelming temptation to eat too many of these right out of the baking dish!
How I have used them, and actually why I write this post, is many of you have asked how I am cooking all these greens so I like them. The answer is I have a container of this roasted garlic in my refrigerator (this stuff lasts well in there) and I've just been adding them in little bits to stuff to enhance all sorts of things. Nothing has this helped more than greens!
I now realize this would be really easy to do again with those packages of already peeled garlic from the store that I never buy because I couldn't get through them fast enough. Next time, I'll buy a little package of those and simply roast them up for satisfying greens anytime.