Photos of Derek and Kelsey's Wedding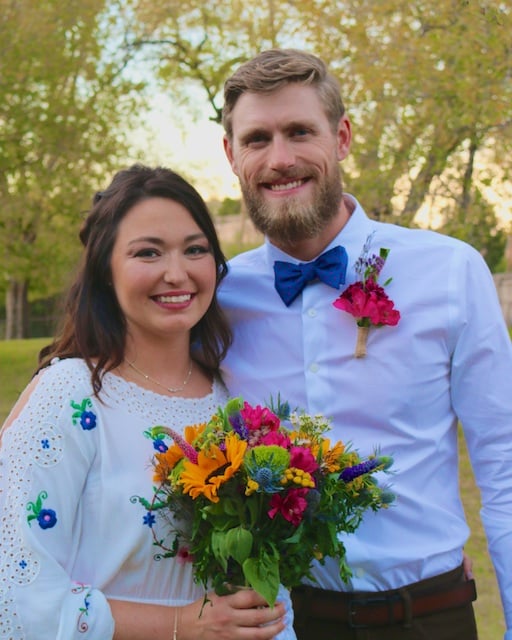 Derek and Kelsey's wedding was beautiful. They seem to bring out the best in each other which is lovely to behold. The venue was one of the nicest I've ever been to and the weather was spectacular. The wedding was outside, which was brave for the groom's family since you might remember his sister got married outside in the rain. All the twinkle lights and all the smiles made it especially fun for the photographer in me.
Check out my many photos of this event below. The light during the golden hour was gorgeous, so I jumped in quickly and took as many photos as possible earlier in the event, since you'll note that the photo quality goes way down after dark. They did not allow photography during the service, so unfortunately you miss the pretty Mexican embroidery on the bridesmaids dresses, as well as the silly antics on the part of many involved during the recessional.
The whole event was fresh and loose and fun. We had heard that the groom was wearing jeans for the occasion, but these handsome chocolate brown ones looked polished and dressy and good on everyone, especially with their crisp, white shirts. Everybody looked fabulous, but not as formal or uncomfortable as at some weddings, when you see the guys tugging at their cummerbunds.
My husband's family is so large that it is hard to get everyone in one shot, but we tried. Even though there look like a lot of people in the group shot of the groom's family, we were missing many in the college set and young millennial part of the family who were unable to come. We missed everyone that wasn't there, which made us doubly glad for each and every one that was.
It was nice to have our daughter there from California with her boyfriend, who acquitted himself beautifully meeting a family as large and diverse as this one. We realized that there is not a single person in this family that we don't genuinely and heartily like, which is quite remarkable.
Mind you, this is even more amazing, since it is the prevailing attitude in this clan, regardless of the fact that there are some very large differences in religion, politics, and world view within it. Each one is treasured exactly as they are, with no attempt at modification needed. With this working so well in this microcosm, can it please extend to the whole world?
After 29 years of marriage, this family feels like my own, they have welcomed me so thoroughly. I'm grateful for this and do not take it for granted. When considering marriage, it is important to remember that you marry the family as well. I'm glad I knew that, and turned down previous offers of marriage to be where I am now. I rejoice that I not only scored the pick of this litter, but a great family culture to boot.
Derek has lived and worked in many places – Norway, Liechtenstein, and Isreal to name a few– and has told Kelsey that she gets to pick the next place. We look forward to finding out where that is! It was a total delight to see Derek so very happy and content, and to be part of his send off into the land of marriage. Best wishes to this newly minted couple as you launch out on your life together!