Colette (Movie Review)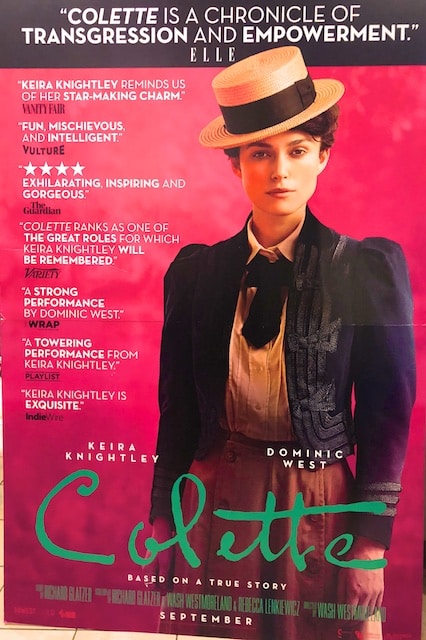 Colette was a female French writer that was way ahead of her late 19th century time period. I've read and appreciated Colette's writing, so was glad to see the movie. Kiera Knightley was perfectly cast for the lead roll, and the cinematography of the film was terrific.
This sad story is still relevant today. Colette writes her first books as a ghost writer for her husband, and as the popularity of the work surges, he laps up the praise and wastes the earnings. Plus, he is unfaithful, and has affairs as he says is normal and acceptable for men. All this chafes. She responds by having a couple (explicitly depicted) sexual relationships with women, and becomes more strident about owning her own power and talent. She eventually leaves her husband, and becomes a popular writer in her own right.
As a modern woman, married to a very different kind of man, I feel like it is high time for some movies about men who are conversely wildly supportive of their wives, loyal to them, and forever helping them succeed and make their impact. All the male role models should not be odious, cautionary tales. Men like my husband, or Madame Curie's husband, should be highlighted too, for future ages to emulate, and for women to be wiser about how to cultivate this in the world. Rebelliousness is great so far as it is needed, but nurturing a different sort of man that is free to be equal, and not rule, compete, nor be subservient, is not easy, but very important to showcase. Maybe like, Colette, I am way ahead of my own time.
Anyway, this movie is well done, and I give it 4 stars.