Bits and Clips for January 2018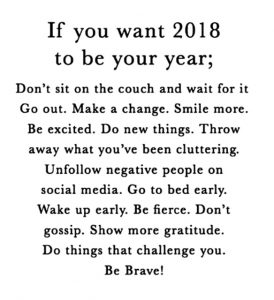 This is a regular,  monthly feature of the highlights that I saw, read, watched, or listened to on the internet during the month. I hope you find something among these links that is inspiring, educational, motivating, interesting or informative here:
Art:
Juicy Cheese Burger, Soft Pastel Speed Painting by Julius Legaspi (video)
Vivaldi's Storm Like You Never Heard it Before (video)
Spirituality:
Ellen Degeneres' Father was a Christian Scientist and She Said This About Him on the Air
Looking and Longing for Companionship?
Pray to See Your Spiritual Self
Ideas:
Is a Charlotte Mason Education for Everybody?
14 Ways To Make Journaling One Of The Best Things You Do In 2018
8 Epic Road Trips In Connecticut You Simply Have To Take In 2018
Innovation: 18 leaps to watch for in 2018
The One Superpower All Great Leaders Master, According to Harvard Research
49 Phrases to Calm an Anxious Child
30 Words of Affirmation Every Child Needs to Hear
The Zero Point Field: How Thoughts Become Matter?
Books:
Best-selling author Ursula K. Le Guin dead at 88
Movies:
First Woman Filmmaker (video)
Food:
15 Classic French Dishes You Need to Master at Home
Sheet Pan Asian Salmon With Vegetables
30 Whole30 Soups, Stews & Chilis
Hope:
Positive Things That Happened in 2017
Bill de Blasio: This is why New York is suing and divesting from Big Oil
Cultivating Courage (video)
Historic Christian Science Church to Be New Home for Children's Museum of Manhattan
Texas School Beats ADHD by Tripling Recess Time
From Garbage to Garden (video)
She Built a House from Milk Boxes (video)
Two dying memoirists wrote bestsellers about their final days. Then their spouses fell in love.
Wildlife Burned in California Fires Get Fish Skin Bandages
Iceland elects 41-year-old environmentalist as prime minister
Signs For The 2018 Women's March Prove The Movement Is Here To Stay