Badass Librarians of Timbuktu (Book Review)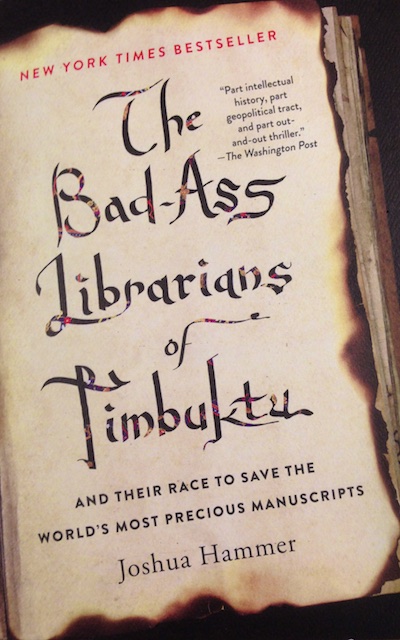 I read this book for my book group, otherwise I'm not sure I would have picked it up. It is about an area of Africa I knew little about– in particular knowing nothing of the precious manuscripts there that needed to be saved from Taliban destruction. 
The first two-thirds of the book were back ground information, both about the manuscripts, and the rise of Jihad in the area. Then the story of the rescue of the manuscripts begins.
I thought a novel would have been a better vehicle for the story of the manuscripts, which is ultimately the story of the huge difference one man can make, which is always a compelling narrative. Instead, it seemed like the story of the manuscripts was just a vehicle for this journalist to share all the detailed history he knew of the area in the time of the Jihadi occupiers. It read like a very long magazine news article. It included difficult scenes– of hands being cut off and people dispassionately shot– that were not directly related to the manuscripts.
I did learn a lot about an area of the world that is euphemistic for the middle of nowhere. And I appreciate what was done in dire circumstances to protect an important cultural legacy of 350,000 precious historical documents.
When will one ideology stop violently and belligerently trying to inflict their views on another?
I give this non-fiction read three stars.