Bits and Clips for April 2017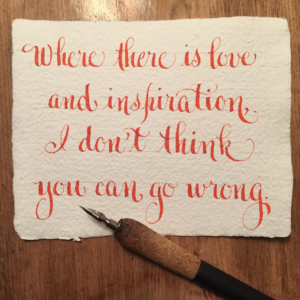 This bits and clips post is a monthly feature on this blog highlighting the best that I read, heard or saw on the internet that month. I hope you find something in the links below that is interesting, thought provoking, helpful, inspiring, fun, or enlightening:
Art:
New MoMA Show Unearths Female Abstractionists That Have Languished in Storage
'Hallelujah' played on crystal glasses – gorgeous sound
Arts and Culture Aren't an Elitist Extravagance. They're Essential to American Life.
The Women of the Bauhaus School
Da Vinci's iconic depiction of Easter's beginnings has a violent history it barely survived
Few people can name five female artists — can you?
Philomene Bennett: Inspiring Budding Artists
Spirituality:
The Profound Connection Between Easter and Passover
Ideas:
I've been in education for 20 years, and there's a disturbing trend afoot in kindergartens around the US
Brené Brown: Be the adult you want your children to be
These 11 Trails In Connecticut Will Lead You To Unforgettable Places
Swinging Into Ella Fitzgerald's Centennial, with Six Tracks Hand-Picked by Our Announcers
People With This Personality Trait Literally See the World Differently
A Timeline for When Kids Should Master Basic Kitchen Skills
Plants That Repel Mosquitoes Naturally
9 New Apps That Are Making Farmers' And Gardeners' Lives Way Easier
Bill Gates: This Will Be the Biggest Technological Breakthrough of Our Lifetime
7 Ways Focused Hard Work Crushes Self-Limiting Beliefs
Change Your Words, Change Your Life
To Be a Genius, Think Like a 94-Year-Old
Here are the national monuments being reviewed under Trump's order
Stifled Grief: How the West Has It Wrong
Peggy Whitson logs more space hours than any other US astronaut: A history of women and NASA
Courage Is Born from Struggle — Brené Brown
Young, Gifted, and Not Getting Into Harvard
Psychologists recommend children be bored in the summer
Sheryl Sandberg: How to Build Resilient Kids, Even After a Loss
A Positive Outlook May Be Good for Your Health
Books:
A Count Becomes a Waiter in a Novel of Soviet Supremacy
Are You Reading The Wrong Books? What Science Is Saying About Fiction Readers
Food:
Coconut Red Lentil Soup Recipe
Poetry:
The Ancient Poem That Will Put Your Life in Perspective
Hope:
She found a way to make plastic waste useful
Nature Conservancy protects 13 miles of North Shore
Meet the Math Professor Who's Fighting Gerrymandering With Geometry
Pope Francis gives a surprise TED Talk, calls for a 'revolution of tenderness'
His Holiness Pope Francis: Why the only future worth building includes everyone