Recipe: Peppers Stuffed with Quinoa and Black Beans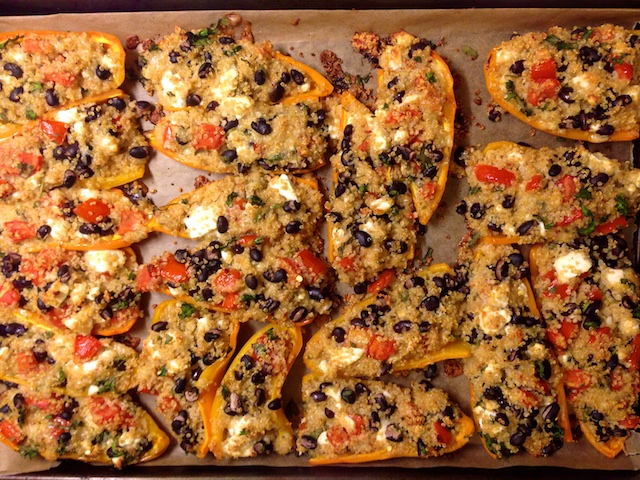 I have other yummy stuffed pepper recipes on this blog that are spicier and more labor intensive (see especially here as well as here). But for the beautiful peppers shown below that my husband grew, I wanted a mild stuffed pepper recipe that was also quick and simple to put together. So I created this recipe as a test drive, and we really liked it. It would work as well (or better) with traditionally shaped bell peppers, than these sweet oblong ones.
I will now be making more of these for the other peppers that are still coming on. I plan to cut, deseed, and par-boil the pepper halves, stuff them, and freeze them uncooked on cookie sheets before placing them in freezer bags for quick, fresh meals later. I will then thaw them before cooking them.
Meanwhile, I thought you might want to give this easy and satisfying dish a try.
Stuffed Peppers with Quinoa and Black Beans
6 bell peppers or 10 smaller oblong sweet peppers, deseeded and cut in half lengthwise
3 cups cooked quinoa
1 can black beans, rinsed
1 cup shredded pepper jack cheese (I used Trader Joe's Jalapeño Jack Cheese
1/2 cup feta cheese, diced
3 tomatoes, diced
1 teaspoon cumin
1 teaspoon garlic powder
1 teaspoon onion powder
1/4 teaspoon chili power (more if you want it spicy instead of mild)
large handful of chopped cilantro
salt and pepper to taste
Preheat oven to 350ºF. Line a cookie sheet with parchment paper for easy clean up.
Cut peppers in half and combine other ingredients. Stuff the peppers as densely as possible, and arrange on prepared cookie sheet. Bake for 30 minutes until heated through.
Serves 4.
Also makes excellent leftovers warmed up again later.