Book Review: Big Magic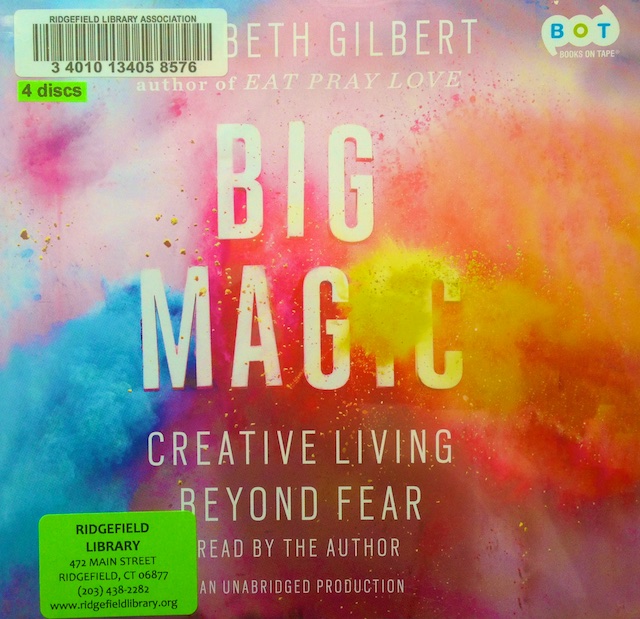 I loved Elizabeth Gilbert's runaway best seller Eat, Pray Love, and I read most books out there about creativity, so it was natural I would read her new book about living a creative life. It is not that I need help living creatively, since I'm exploding from within with more creativity than I can express in a billion lifetimes. I simply enjoy the discussion of it because it places me nearer kindred souls. Just read my blog about page and you'll see that I am what she calls here an unapologetic hummingbird, and you may remember I espoused long ago the wisdom of cross-pollination.
So I bought this book as soon as it came out in Costco, knowing I would want to read it and own it, but then never opened it. It took until now when I saw the audio version on the new shelf in the library to actually get into it. The author reads aloud the book, which adds to the experience, as you especially hear her voice that way. I loved it and give it five stars. At some point, I will read through the text version and give you some quote nuggets that you won't want to miss. In the meantime, I think you'll want to listen to this yourself.
I applaud Gilbert for the light tone of this book. Like me, she rejects the notion that creativity is for tortured souls. I like how she puts fear in the back seat, and doesn't let it drive. I too practice stubborn gladness. I too give myself permission, and focus on authenticity and curiosity, rather than outcome. I live in a world where what she calls Big Magic is really real and accessible to everyone. I wish more people would join me there.
And while her terminology is sometimes not how I would say it, and she swears a bit, I did not find this a deterrent nor offensive. She is sharing her truth in her way, and would rejoice in you sharing yours in your own.
I encourage you to read this book. It is short (only 4 CD's) and full of interesting stories and antidotes. But more importantly, I hope you follow its advice. Lighten up. Be persistent. Have fun making things. Be the only – and best– you there can be. Sparkle with originality. Let it go. Radiate joy and love. Go on…do it!