Recipe: Salmon and Bok Choy with Blueberry Salsa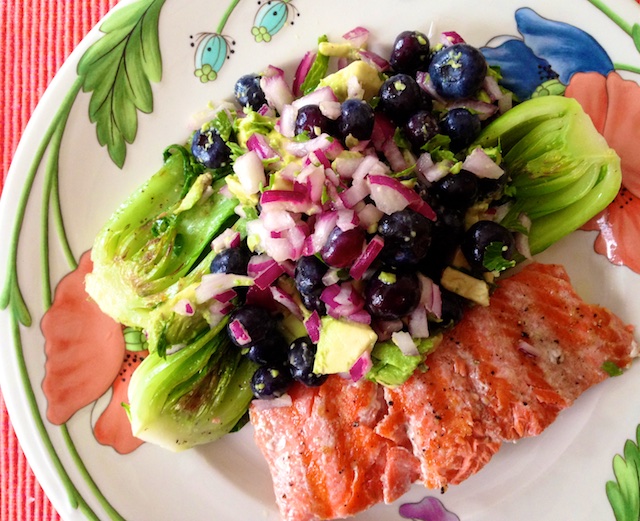 This is a quick and easy meal for two. It was delicious.
The blueberries are good right now at Costco coming from Chile, and the bok choy is sold in containers of three from Trader Joes, so that combination of factors led to the inspiration for this meal. And of course avocado always makes things better!
I used a stove-top grill pan for this but you could grill it outside if the weather permits, or use a standard frying pan for equally good results.
1 cup blueberries
1/2 avocado, diced
1 tiny red onion (about two Tablespoons), diced
1 teaspoon lime juice
1/4 teaspoon toasted sesame oil
2 Tablespoons fresh cilantro, chopped
2 small salmon filets (4 oz each)
3 heads of bok choy, halved
olive oil
salt and pepper
Preheat a pan to medium-high.
Make the salsa: stir together the first six ingredients.
Drizzle both the salmon and the bok choy with olive oil and season with salt and pepper. Then put the salmon on to cook, about 3 minutes per side. When you flip the salmon, place the bok choy in the pan as well, for one minute per side.
Put the salmon on the plate, followed by the bok choy when done (it will look bright green and slightly wilted). Top each plate with half of the salsa.
Eat immediately. Enjoy!