Recipe: Cheese, Onion and Garlic Strata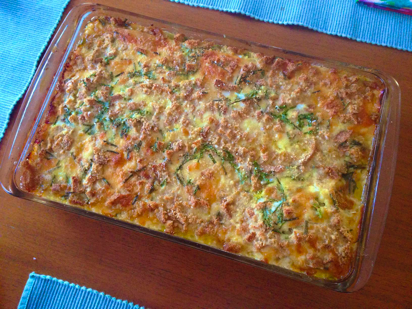 This is delicious, and is a great way to use up stale bread as well as miscellaneous cheeses. It is easy to make and the leftovers taste just as good warmed up for a quick meal. This may also be prepared in advance and refrigerated until you are ready to bake it. Shown in the photo below, I served it with Greek Yogurt Waldorf Salad. Yum!
Organic butter
6 slices of bread plus 2 heels, stale is fine (we use organic sprouted whole wheat)
1 huge sweet onion, chopped
1 green pepper, seeded and chopped
2 jalapeños, seeded and chopped
6 garlic cloves, pressed or minced
6 slices of cheese
1 cup shredded cheese
2 2/3 cup organic milk
4 organic eggs
1 teaspoon salt
1/2 teaspoon dry mustard
1 teaspoon garlic powder
2 Tablespoons fresh chives, chopped
1/4 cup Parmesan cheese
Preheat oven to 350˚F.
Butter a 9' x 13" baking dish. Butter each slice of bread.
Sauté onion, peppers, garlic and jalapeños in a tablespoon of butter until soft.
Arrange 6 slices of bread in the bottom of the baking dish.
Top with the sautéed vegetables in an even layer.
Cover with 6 slices of cheese and a cup of shredded cheese in an even layer.
Beat together the milk, eggs, salt, mustard, garlic powder, and fresh chives. Pour this over everything else that is in the baking dish.
Dice up the two heels of bread and scatter on top, followed by sprinkling on the Parmesan cheese.
Bake 45 minutes or until puffed and golden.
Enjoy!