Recipe: Turnip Gratin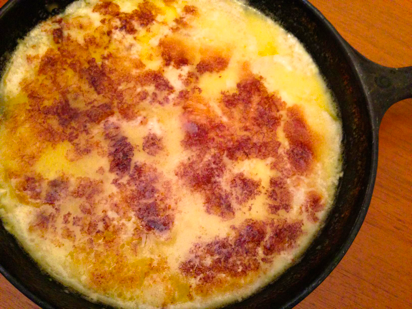 Ok, this is a bit decadent, but totally delicious, and better for you than scalloped potatoes. It is perfect for a Thanksgiving side dish, or if you are like us and have a superfluous quantity of turnips that you grew in the garden. This dish is both easy and quick to make. I served it below over a simple filet of tilapia: yum. It is now too cold and dark to be having dinner outside, so I apologize for the lack of natural lighting in these photos… Also please note, that these are just as good eaten as leftovers.
4 medium turnips
6-8 cloves of garlic, minced
2 cups gruyere cheese
4-6 tablespoons of butter
vegetable broth
heavy creme
salt and pepper
Preheat the oven to 375˚F.
Peel the turnips, cut off the ends, and slice as thinly as possible.
In a oven proof skillet, melt two tablespoons of butter over medium low heat. Place a single layer of turnip slices on top of the butter. Then sprinkle with 1/4 of the garlic, followed by pat of butter, and a small drizzle each of broth and cream. Top that with 1/4 of the cheese and a sprinkle of salt. Repeat this process 2-3 more times until all the ingredients are used. Top it all with a bit of pepper, if desired.
Put it in the oven for 20 minutes until browned and bubbly.
Serve hot and enjoy!