Our Daughter Graduates with Her Master's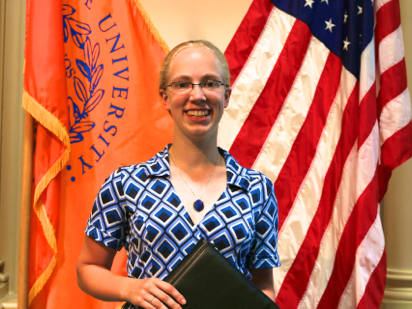 Today our daughter graduated from the Maxwell School of Citizenship and Public Affairs at Syracuse University with her Master's in Public Administration. We are so proud of her diligence, excellence, values, and accomplishments. She truly glorifies God!
Every single one of her professors told us that it was students like her that made teaching worthwhile. One wanted to impress upon us what an awesome job she landed. The graduation speakers emphasized how fantastic this class was, how hard the winter was, and how intensely they worked all year long without a break to do this degree in one year. They counseled to never compromise their integrity, to leave the world better than the way they found it, and never give up. Nothing gives this faculty greater happiness than their student's professional success.
We hear a lot of groaning about government these days. But when you look at this class one feels only hope. All these young people are poised and equipped to make a positive contribution on both sides of the aisle, at the local, state, federal and non-profit level. We were inspired by the diversity among these students, as well as their common desire to improve public affairs with hard won skills and persuasive facts. Bravo to them all!
(For those new blog readers, you may enjoy this blog about why our daughter chose to go to this program over others, this blog of photos of the University of Syracuse, or this blog describing the job she will be starting in Sacramento in September…) Also see below the place our daughter worked this last year, the ring our younger daughter made her sister as a graduation present (she was away at camp and couldn't attend), and the silverware we gave her that she wanted as a gift. Her brother surprised her by unexpectedly coming up from Philadelphia for the event. Please note that the lighting conditions – especially in the tent– were difficult for great photography…
Wahoo Virginia! Congratulations on a job well done!