A Spiritual To-Do List Instead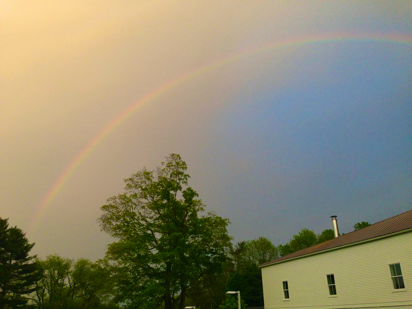 As you may remember, my New Year's resolution was to "have a plan and work my plan." Admittedly, I have made some progress with the plan as outlined in that post, but it is too spotty and not habit forming, because of shifting priorities. Recently I have made a new plan, one that I'm doing much better sticking to, and it is having much better, more far reaching results. I recommend it!
I have traded a human to-do list for a spiritual one. I still want to get those human things done, but what I "must" do is get my spiritual list done. This approach, in the long run, is accomplishing much more. But that isn't even the point, because the spiritual to-do list is also an end in itself, our real purpose in life. Working on this list is a game changer.
It is not easy but oh-so-rewarding. In my best day so far I have deemed myself to have done/demonstrated/realized all but two of these in some way; I felt on top of the world and was even blessed with a gloriously full rainbow which was more than a half circle in size. Now I am chasing after a regularly perfect score…
Here is what my daily habit list looks like for myself right now, although I'm sure it will continue to morph as I both internalize some of these and discover others that I need to add. They are in no particular order:
Having one God

Listening to God and being obedient

Kneeling before El Shaddai

Yield to omnipotent Truth

Life is the law of my being

Know that God's thoughts are the only influence on anyone

We are children of God, filled with spiritual dominion

Overcome fear and intimidation

"There is now no condemnation to them that are in Christ Jesus." (Rom 8:1)

Love my neighbor as myself

Do not let the world control my thinking

"What is that to thee? Follow thou me." (John 21:22)

Claim "Peace be still." (Mark 4:39)

Think as divine Mind does

See the Christ at work in me and others

Be growing in my understanding of divine law

Demonstrate temperance, moderation, balance, and order

Do not compare myself to others

Cast out old beliefs that deny spiritual perfection

Reject materialism as a cause

Think in terms of counterfacts to evil, error, and disease

Shed mental weight by dropping my burdens

Become less weighed down by matter

"Exercise thought unto godliness." (paraphrase of 1 Tim 4:7)

Make wise choices and intelligent decisions

Be in charge of your thinking

By nature I am (and others are) attracted to the things of Spirit

Expand thought to include more good

God governs the combinations of ideas

Love truly lived can stop evil, fear, sin and death

Love is neither to blame nor powerless

Have one fact before my thought: spiritual existence

"Feel the divine energy of Spirit bringing us into newness of Life." (SH 249:6)

"Rise into newness of life with regeneration." (SH 24:11)

Be joyful in my God.
So make your own spiritual to-do list and get it done.
Wow. You will be glad you did.