Mollie Katzen's New Cookbook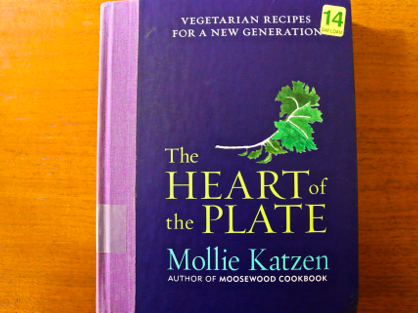 When I became a vegetarian 35 years ago, there weren't many cookbooks relevant to me, which is why Mollie Katzen's soon-to-be-classic Moosewood Cookbook became a standby. I grew up as a cook by her side, so to speak, and who would have imagined all those years ago that we'd become actually acquainted over something called twitter? What a world we live in. So it is no surprise that you've seen my favorite recipes of hers on this blog here and here and here.
Anyway, I couldn't be more of a fan of Mollie Katzen's. I have every one of her cookbooks. When I interlibrary loaned her new cookbook (shown above) last September when it was just out, I didn't think I'd have to wait until late January to get my 14-day-turn with no renewals. Apparently, I'm not the only fan of hers out there.
Well, I only needed one hour with it, because after looking at it, I bought my own copy with my last credit card points. This is a whole new Mollie, updated and more experienced. Her ideas have matured and come to dazzling fruition. For example, check out her reinvented veggie lasagnas below, a well as her shaved fennel salads. I look forward to making this beautiful, healthy, interesting food!