Recipe: Farro, Tomato & Herb Side Dish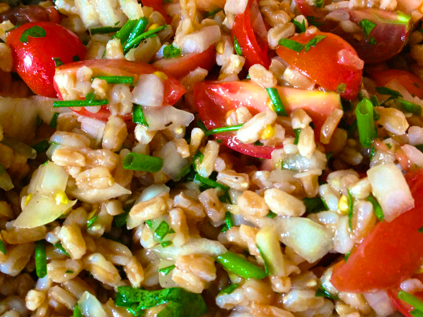 This side dish is especially good now when the cherry tomatoes and herbs are plentiful in the garden. The cooking times here are for Italian Pearled Farro which cooks more quickly than other kinds.
Farro with Tomatoes
2 cups water
6 oz of farro
1 tsp sea salt
1 pint cherry tomatoes sliced in halves or quarters
1/4 large sweet onion (Vidalia or Walla Walla), diced
2 Tbsp diced chives
2 Tbsp finely chopped parsley
1 large garlic clove, minced
1 tbsp of balsamic vinegar
2 Tbsp olive oil
salt and freshly ground pepper, to taste
Combine water, farro and salt in a medium saucepan. Bring to boil over high heat, and then reduce to medium-low and cover, simmering until farro is tender (15 – 20 minutes.) Drain well.
Add the tomatoes, onion, chives, and parsley to the farro and toss to combine.
In a medium bowl whisk together the oil, balsamic vinegar, garlic, salt and pepper. Add the vinaigrette to the farro and serve warm or at room temperature.
(Makes four larger servings or six smaller ones.)