Camping with Susan on Isle au Haut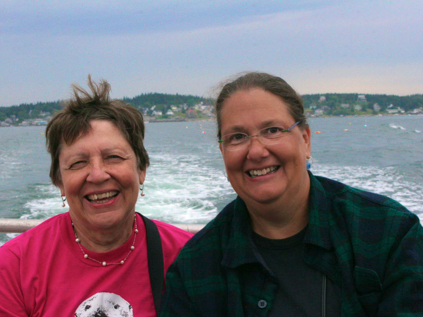 Isle au Haut is a remote island of Acadia National Park that has 5 campsites that are obtained via lottery on April 1st every year. My friend Susan has done this annually with her family for about twenty years. This time her daughter had a newborn, so I had the privilege of accompanying Susan instead.
Susan has it down about how to do this camping trip. She has taken apart a screened in tent designed to go over a picnic table and brings a staple gun to attach it on the fourth side of the three sided shelter in the campsite. We had a zipper entry and a bug-free zone.
We hiked a big loop of the island and combined talking a lot with deep spells of contemplation. Only one other campsite was occupied regardless of the fact that the others were reserved and paid for, so we had gobs of space to ourselves. And the trip to and from the island on the mailboat was fun too!