Photos from my New Walk Route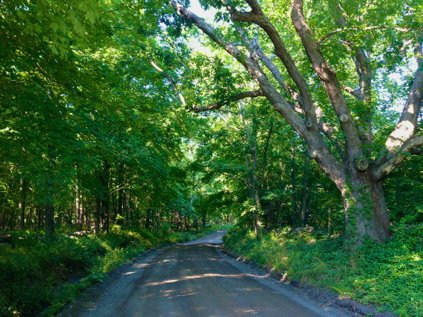 Recently, I shared photos from my walk around my neighborhood that I've done for years. I like that walk for obvious reasons – it's lovely and a loop right out of my front door, complete with gardens close up. But it makes a more leisurely ramble than exercise, partly due to it's flatness, but also because there is so much to look at. Last week, however, pushed me to do something different, because with temperatures over 100 degrees, I also needed more shade in order to get a good workout.
After talking with our church soloist, I hit on a new plan. I drop our youngest daughter off at New Pond Farm for her job in the garden at 9 am, so now I do a loop from there. This walk has it all: it is very hilly so it is good exercise, it is mostly shaded, it has beautiful homes spaced far apart, and one long leg of it is a dirt road that is not often traveled.
So here are my photos, taken with my iphone since it wasn't intended as a photo walk. I'm happy with this new solution!