Family Photos of Christmas Day 2012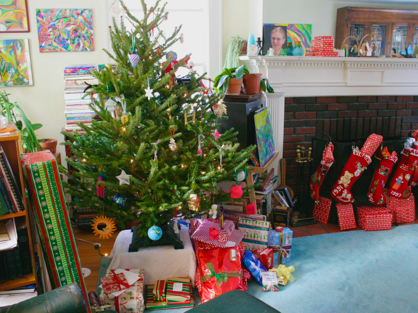 We had a nice day; it is rare for us to spend a whole day just the five of us, and that is the biggest treat of all…
With everything going on here, we were unable to get our tree until Saturday night, and bought one of the last ones available, which we had to prop up a foot to make seem big enough. We didn't decorate it until Christmas eve, after dinner and games, which may become our fun new family tradition.
The picture below of our kids at the top of the stairs ready to come down for Christmas morning festivities is a yearly ritual, except this year it was taken at 10:30 in the morning rather than 7:00am! (This allowed time for my husband to make homemade cinnamon buns!) We read aloud some favorite Christmas picture books and our youngest brought down an armload of "friends" as has been the custom here. Our oldest brought down Myrtle, an American girl doll that she got 16 years ago from my mother.
Our youngest was delighted to get Buckyballs (now no longer available) and my sister surprised our son with a ukulele (he has friends that want to teach him so they can play it together.) Our son gave our oldest an antique (note 1960's is antique!) pocket watch like his and our youngest painstakingly made a Swarthmore ornament for her brother, by appliquéing tiny seed beads. Our son gave me a Van Gogh mug whose ear disappears when you put hot water in it. My husband got gift cards to do some replanting where we lost trees in the hurricane. Thoughtful gifts all around and the spirit of familial love ran high.
I'll post soon the books we received, and meanwhile, I'm off to get ready for my husband's relatives to arrive. Sending you sweet felicity from our family to yours…