Book Review: Artist's Journal Workshop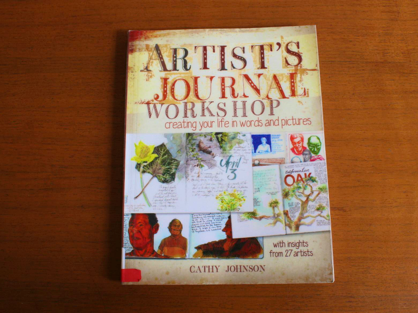 Even though this book doesn't come close to my favorite book on art journaling, I still liked it, and give it four stars.  It made me want to get regular about doing this again, which is what I was hoping to get out of reading this book, so it did the trick!  (I just ordered a new blank watercolor journal online today…)
The approach presented here is very gentle and not focused on a bunch of complicated media or ephemera.  It is more focused on making the process authentic and therapeutic and useful for you and your purposes. 
Cathy Johnson makes the distinction between an art journal (which is meant to be a finished work of art in itself for sale) – for example, an "altered book" or something beaded with tassels and shaped like origami. An artist's journal, on the other hand, is a personal journal kept by a creative person searching for answers, making sketches and notes  – to learn in as they go.  In artist's journal, gives attention and respect to the small things, thereby elevating them to a higher more attuned level of consciousness which renders them more useful.  This is what I want to do.
The author of this book recommends two other favorite books on the subject, which are ones I loved and would recommend as well.  Check out a Life in Hand and The Creative License from your libraries. They are great reads even if you do not intend to work on an artist's journal of your own.  (Although I encourage the life changing experience of actually regularly working on one, which why I want to get back to it!)
Check out the author's blog here; scroll down a bit and you'll find much inspiration in her links on the right side to the websites of the artists whose artist journals are in this book.