Our Son Receives His Diploma at Homeschool Forum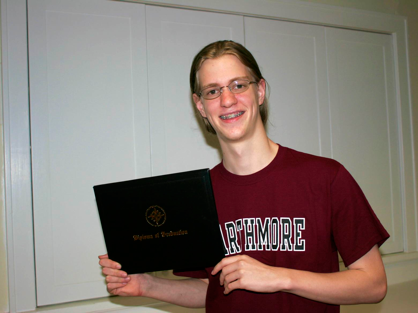 Our son received his homeschool high school diploma today with our local homeschool group.  Andrew gave his last presentation at "Kid's Forum" (a homeschooling presentation club) where he has given 90 speeches, recitations and demonstrations since first grade.  At the last forum of the year, the seniors in the group are honored, and this year that included our son Andrew and his friend Elizabeth.
The group served up love, support, questions, and new dictionaries. The graduates were serenaded by guitar, poetry, and cake followed by pizza.  Both Elizabeth's mom and I spoke a few words, saying how proud we were.
Andrew was a privilege to homeschool, very precocious and independently minded.  In his senior year he took six online classes (four of which were AP's) and got all A's, including A+'s in AP Physics, AP Microeconomics, and Mechanical CADD.  Andrew has been a self directed learner for years.  He liked the flexibility homeschooling gave him to pursue what he was interested in. I appreciate the opportunity homeschooling affords for not only you to really know your children, but for them to have the time and space really to know who they are themselves.
This event was low key and very sweet.  Homeschooling this child from 1st grade to 12th grade has been a long, arduous, but very satisfying road.  We've all learned a lot in the process, and I'm very grateful that we had the courage to undertake and stick with this adventure!
Congratulations, Andrew for a job well done!