Recipe: Tomatillo Soup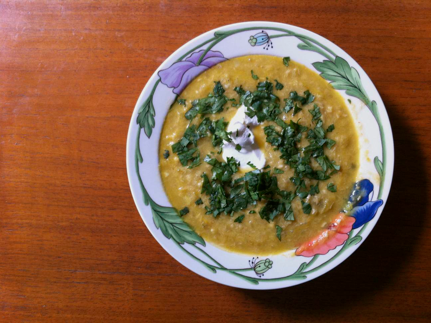 Feasting off a friend's bumper crop of tomatillos, we thought this soup was particularly delicious. Give it a try…
Tomatillo Soup recipe
3 tilapia loins (or could use chicken)
3 tablespoons olive oil
1 onion, chopped
3 cloves garlic, minced
1 pound chopped tomatillos
2 jalapeno peppers, seeded and minced
4 cups stock
1/4 teaspoon cayenne pepper
1/2 teaspoon hot pepper sauce
2 tablespoons chopped fresh cilantro
1/4 cup sour cream (optional)
salt to taste
ground black pepper to taste
Heat oil over high heat in a large saucepan or Dutch oven. Saute tilapia (or chicken) in oil until both sides are browned, approximately 2 minutes per side. Remove the tilapia (or chicken), and set aside.
Add onions and garlic to saucepan, and saute until golden. Stir in the tomatillos, jalapeno peppers, and broth. Bring to a boil. Reduce heat, cover the pot, and simmer for about 15 minutes.
Puree vegetables in batches in a blender or food processor. Return to pot, and reheat. At this point taste the soup; if not piquant enough, add cayenne pepper or pepper sauce.
Shred the tilapia (or chicken) and stir into the soup. Season to taste with salt and pepper.
When ready to serve, stir in the minced cilantro and ladle into bowls. Put a dollop of sour cream on top of each portion, and let it melt a bit. Top each dollop with cilantro, and serve immediately.
Enjoy!