Movie Review: The Way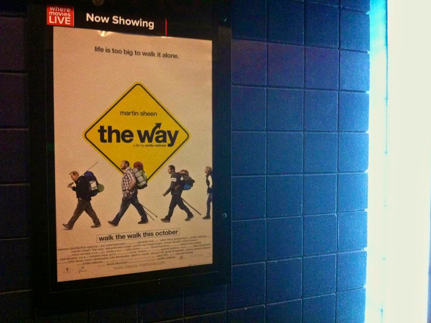 This movie is about a father walking a pilgrimage through Spain on the Camino de Santiago, also known as The Way of Saint James, to honor his son who was killed in the Pyrenees during a storm on the first day out while walking it. In the process, this dad comes to both understand and really "hear" his son, as well as come to his own gradual self discoveries in an atmosphere where others are also engaged in trying to do that. The wide variety of people and accommodations along this path add interest and context to the story.
This movie is written and directed by Emilo Estevez, Martin Sheen's son, and together they play father and son in this movie, which is personal for them as they have walked this way together before; it is part of their family heritage. The movie was filmed entirely in Spain and France along the actual Camino de Santiago, and it was a real pleasure to see the landscape.
Other than lovely scenery and experiencing a bit of what trekking this path is like, this movie explores the dichotomy between "choosing a life" and "living life." In the end we perceive that it is our humanity toward ourselves and others that defines us.
I often ache for international travel, and this movie only heightened that desire. My challenge is to live life along the way when no exotic locale is in the budget! Still, I think seeing the world is a right desire and I'm sure it brings more blessings of self discovery than are implied by this film. I give it four stars.