Book Review: The Makers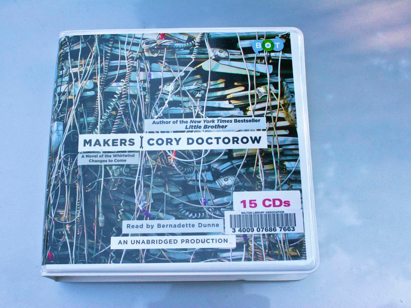 This book took me forever to complete. Even though there were some great aspects, it was about twice too long. I give it only 3 stars. The near future techie stuff was interesting but the storyline was not compelling enough to sustain it. Cory Doctorow should stick to blogging about and predicting the future of tech, and leave novel writing to others.
For the first third of the book I thought my geekie 16 year old might like it, but an unnecessarily explicit and drawn out sex scene was the end of me thinking I'd recommend it to him. All this is too bad, because the world of 3D printers in every home, venture lawsuits bringing down big corporations, and fashionable metabolism enhancement gone all wrong, could have been really engaging put together with more of a plot. All these futures seem possible as we are on the verge of them already. The way it was depicted, I doubt I'll like that future any better than this book!