Movie Review: Pay It Forward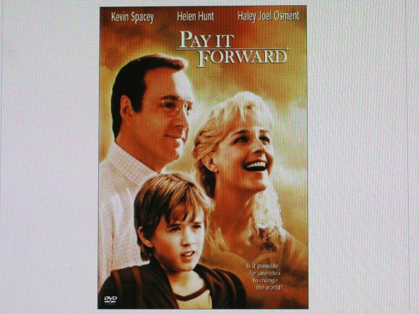 The assignment to the seventh grade social studies class is to have an idea that will change the world and then to put it into action. Trevor in that class has the idea for "Pay It Forward." He will help three people out in a big way and then instead of paying him back, they'll be told to "pay it forward," by helping three other people in a big way. This chain reaction of all these good deeds would burgeon exponentially, changing the world into a better place. It is a five star idea, which I applaud and would like to see the world embrace.
The movie, however, I give only four stars. It is not an ideal world and people find it hard to change. People make mistakes and there is always a risk involved when trying to help people. There is plenty unvarnished reality mixed in with the idealism of this message, and there's some belly-flopping between the two. Still, I think it is worth seeing and pondering. We can all do more good than we can imagine, and maybe we can be inspired to own the power of the ripple effect of every bit of good we do. This film furthers that cause.