Labor Day Fog Dispersing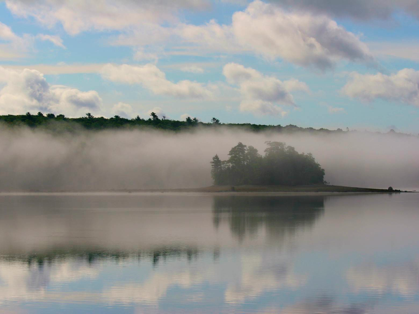 I awoke to dense Labor Day fog, and pondered it in depth on the dock. The last time we had fog this dense here was four years ago, also on Labor Day. Unlike today, the tide was in then and we had rented kayaks so I went off kayaking in the fog. It was an incredible suspended feeling I still remember.
This morning, while I was sitting on the dock watching the drama unfold before me, I mused that four years ago my oldest was starting to homeschool High School, which to me was analogous to kayaking in a fog of unknowing, blind to anything but trust.
Similarly, I feel a bit the same today as I get used to her off at college where I can't see her or know what it all looks like. But as the fog disperses, as it always does, what comes into view was actually already there, complete and in tact. I oddly enough found comfort and strength in that fact today.
Just like I know where that island should be even though I can't see it, I know she's there too, as wonderful as ever. And as the island can see itself even if you don't, she knows who she is and is taking in her vantage point with whatever clarity she can.
I felt the photos below were exceptional. They fit my contemplative mood of emerging gently, uplifting, and revealing joyous day. In these photographs, enjoy this incredible sight I was so grateful to witness.