Leftovers in My Refrigerator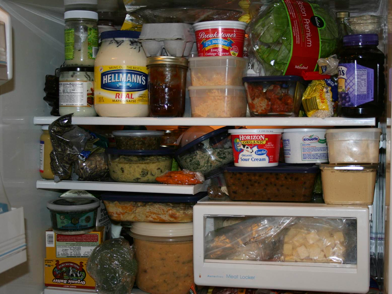 My refrigerator is jammed full as it usually is.  My rotation of food includes creating leftovers everyday and eating leftovers at almost every meal.  Most days I try to make a recipe of something fresh to have which will be supplemented by leftovers. Whatever recipe I make, I am sure to make enough of it to have more for later. 
Here you see three homemade soups, a vegetable casserole, creamed spinach with mushrooms that we put in omelets, tuna salad with carrots, leftover sweet potato fries, my son's turkey meatballs, and my daughter's curried chicken salad. 
Organic butter, mayo, cottage cheese, sour cream, walnuts, hummus, and a drawer full of cheese are all staples, as well as two drawers crammed full of vegetables (below and not shown) for salads, sandwiches and stir-fries. On the counter are two bowls of fruit.
I am grateful to live in this land of plenty; the food on our plates is not only nutritious, but varied, evolving, beautiful and delicious as well.